I want you to be left behind those empty walls
Taunt you to see from behind those empty walls
Want you to be left behind those empty walls
I taunt you to see from behind those empty walls -- Serj Tankian

I am words, I am speaking, I never heard my conclusion
Lost the way in my confusion, in illusion -- lost inside the picture frame
I'm not to blame, I didn't see the black flame, I'm not ashamed,
It's poetry, the black flame, I'm rearranged, it's changing me, the black flame
Burns my blackened brain -- Renasssance

You can hound me now you've found me, but I'm far more cunning than you
I'm a shy fox, I'm a sly fox and I'll teach you a lesson or two
I'll run you through the hawthorn hedge and tear your dogs to shreds
I'll lead you from the open fields into the flower beds
I'll lead you from the open fields into the nearest town
And take you to my hunting ground -- Steeleye Span

And if by chance you should look for me, perhaps you'll not me find -- Fairport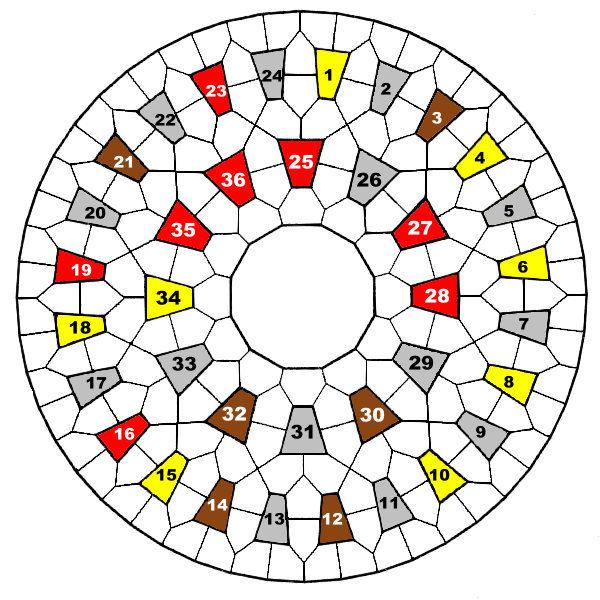 | | |
| --- | --- |
| 1. | Like an 8 ball |
| 2. | In the following, "she" and "brew" are each an example: Annie enjoys Baltic Thunder beer. She believes there is a secret sauce in the brew. |
| 3. | Likely an intransitive verb |
| 4. | Apple |
| 5. | What you might do after drinking too much beer |
| 6. | Work of Dysrhythmia |
| 7. | Illogical logic |
| 8. | Unusual South American bird |
| 9. | Sexy 11th grader |
| 10. | Mickey Mouse lawyer |
| 11. | Second person singular genitive archaic/Docter film/lava. Yikes! We can't even think of a word that rhymes, but, at least, they are all words. Sadly, it gets worse, much worse from here. |
| 12. | Catch LA's Penguin in a rundown |
| 13. | Formerly an abominable snowman |
| 14. | Levy on your wombmate |
| 15. | And again, on booze, smokes, and gambling |
| 16. | Type of pot |
| 17. | Station selectors |
| 18. | Hematite + goethite |
| 19. | Sasquatches |
| 20. | Hide |
| 21. | Period of heat |
| 22. | Ben Button's case |
| 23. | Abstract Groove groove |
| 24. | 5/8 oz. (sing.) |
| 25. | Zen, beer, sculpture (pl.) |
| 26. | Upon a putative extinct apple (alt spelling) |
| 27. | Saturday night special |
| 28. | Muinane/Estonia/Greenland (abbrs.) |
| 29. | Negative relief prints |
| 30. | @13's environment |
| 31. | Atheists, Christians, Muslims, et. al. must do this |
| 32. | Sweet |
| 33. | Avoids @15 & more |
| 34. | Really cheap Romanian feline |
| 35. | Mestaclocanic, therianthropic, amoebic |
| 36. | Swiss Celtic singer |
The above ought to be enough, and I enjoy the minimalist approach, (as if the above cruft could be called minimal), but here's whats going on --
My 4 favorite singers, Sandy Denny, Annie Haslam, Maddy Prior, and Serj Tankian, have all gone missing, somewhere in the town of Groton, MA.

Sandy, Annie, and Maddy each have a clue as where Serj is, but you will need to find all three of them first in order to find him. Between any two of them, there simply isn't enough information (unless you are a real hacker).

The above puzzle should at least help you get started on finding the gals, if you want to. The puzzle is the same idea as the one I contributed to Magical Music Man's excellent ENDOD3D 13 puzzle hunt, but in case you missed that (why did you miss that?), I'll sort of explain how it works (they had to figure it out from thematic clues and trial and error).

Each answer is a word (or in some cases 2, and in a couple cases 3) that completely circles its correspondingly numbered and color coded horse-headed looking thing. Answers to silver clues circle widdershins. Answers to yellow clues circle deosil (I have a digital clock, so I have to use those words, and besides, it makes me feel pagan). In both these cases, you do not know which cell the word starts in.

Answers to red clues start in the cell adjacent to the horse's mouth (the narrow end), but the direction they rotate is unknown (except to me, of course). Nothing is known about brown (bay) clues in terms of either start or rotational direction. Bummer.
NOTE: Thanks to Aiphid for pointing out an error somewhere in the cluespace for this series, on 26-Aug-2013. It was a pretty minor error, as these things go, so I don't think it would have affected anyone, but fixed nonetheless. Hopefully, there aren't any other errors.

This series features excellent carves by Lightnin' Bug, Magical Music Man, MizScarlet, and Pink Panther. Thanks folks!

Posted 19 Aug 2013 -- Sir Braemoor