Orienteering is not treasure hunting. On the other hand, many people who visit my web site are hunting for treasure, often the Mapsurfer Treasureboxes.

The Treasureboxes are based loosely on the 160 year old pastime of letterboxing, an intriguing mix of treasure hunting, puzzle solving, stamp art, and hiking or trail running. The idea is to find a cool place and leave a treasure there in the form of a unique stamp, and to write clues, like a treasure map or outdoor puzzle, for others to work out and lead them to the spot. Or, alternatively, to decrypt others' clues and leave your mark once you find the spot they lead to.

My interest is in writing interesting and innovative treasure hunts; I leave the competition over letterboxing websites, databases, drive-by experiences, growth for the sake of growth, and obsession with logging finds and numbers to those who enjoy it. My outdoor puzzles often take quite a bit of perseverance and insight to solve; I hope you get the chance to enjoy a few of them as much as I enjoyed devising them.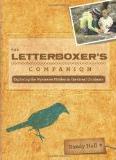 While off the mainstream, I'm not totally clueless -- In 2003 I wrote the original book on the pastime of North American letterboxing, The Letterboxer's Companion (now in its second printing). This is cool -- ever since I was a kid, I had a dream of writing a book which included embedded clues to treasure in the outdoors. I also co-founded the Letterboxing North America web site in 1998 and wrote the original FAQ (both managed by others now), and in 1999 became the first to find 100 American letterboxes. Not bad for someone in disdain of letterboxing competition and numbers.
I've also take commissions to write treasure hunts, with an emphasis on puzzles, problem solving, geography, and general cleverness. If you're in the market for a treasure hunt writer, and who isn't, e-mail me.