I've only been out a couple of times since the last entry.  Rough weather and a rough life. I didn't find much on either of those other hunts since 3/3, but I found a couple of coppers today.  This is from the same field site that gave up that bust half last year, and, including today, has given up 7 coppers as well.  Problem is, and I knew this was coming when I got permission on the site, is that my days here are numbered.  Maybe next week.  Such a sweet site.  I never knew field hunting could be so fun and relaxing. Too bad about all that snow, three months lost.
Anyway, here are the coppers.  A totally abused 179x draped bust largie, and a mostly abused 1864 two cent piece.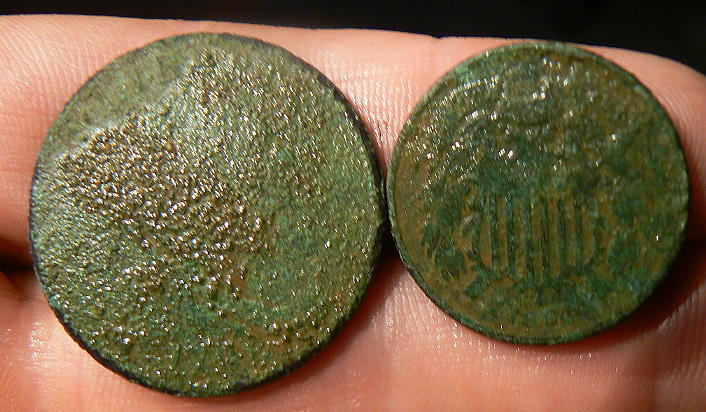 When I pulled the two-center, I thought it was a half cent.  Nice that it was a two-center instead, as that is in the "dead zone".  There is hope for dead zone silver here, we'll see.
By this time last year, I had 75 silvers.  I have 1 so this year, and it is from southern Virginia.  Yeah, the weather has been rough, but it has also caused me to lose momentum and take up other activities, in particular ultra running, which takes alot of time and energy, and Carcassonne, which is cool (and also takes alot of time).  Plus, there is all the yardwork from all the storms.
Now that spring finally appears to be here, I may get more into detecting again, but maybe not.  I have alot of ultra running on the calendar.  I guess we'll see.  I'm thinking it could be a struggle to meet my goal of 30 silvers this year, but all it takes is one hot site.  Hopefully I'll find one.