Friday is farewell, farewell day, and I am pretty much farewelling my latest site.  Not a bad site, but I actually found a bit less than I expected there.
The hunt did not start off well.  I started by finishing off a zone in the woods near an old swimming hole, where I had found some wheats and a buff, but outside of a couple more wheats, all I found was a yellow jacket nest.  Ouch!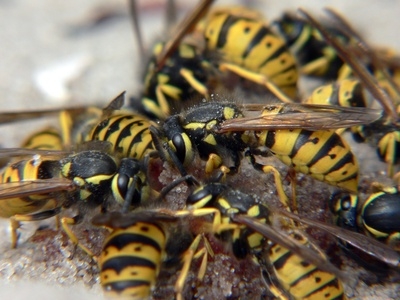 I was stung 6 times, and yeah, I ran out of there, almost jumping in the pond.  They sting for a few hours, then they start to itch. And they still itch (I'm actually writing this Sun AM).
And the hunt didn't get much better.  No silver, just one more wheat.  Farewell farewell day is often like that — you obviously hit the most promising locations first. Many zones left unexplored at the site, but there is so much fill and grade, that it didn't seem worth it.  I did pass thru these here and there tho, just to be sure.
The site gave up 36 silvers, which is a bit less than I expected.  There was an old ballfield that I expected 15 or 20 from alone, based on past experience and the clad and wheaties it was giving up, but it only gave up 1.  This was the zone of "Reason X" from previous entries.
The site had about 30 zones or so, but only one of them gave it up in bulk, giving up 19.  No other zone gave up more than three.  Go figure.  The site has been hit hard (probably without permission, as 2 detectorists without permission showed up while I was there), but why didn't they hit this one zone?  It was a rather obvious potential hot spot.  Who knows?
Were it lacked in quantity, it made up for in quality, giving up 2 barber halves, a walker, and a 2 reale.  These are all tough coins, unless your honeyhole is Ebay

  It also gave up 11 coppers, which is alot for a site, including an 1808 half cent, and 1800 large cent.  The latter two are abused, but still made my top 30 finds list, as did the 2 reale of course.  It was a very nice site in the end.
The one thing I will say, tho, is that I spent way too much time in this large, non-descript field.  That field gave up both a barber half and a 2 reale in the same hunt, in a fairly quick span of time.  I figured the odds were good that some more old coins would pop out, but hour after hour of gridding this huge field produced nothing but some wheaties and a buff.  But I think you have to try.
In retrospect, I think I was in a bit of denial.  The barber half was ferrous affected, and by the location of an old road thru the field that I figured out the location of from old maps, and the 2 reale was deep and on its side.  Both are tough technical finds, and the one is a circumstantial find, thus leading me to over estimate the potential of the field.  It had been pounded hard in retrospect (the lack of coppers, buttons, and buckles in this zone gave this fact away), but after 2 killer finds, you feel the need to press on despite this evidence.  Not a great decision in retrospect, but it was fun nonetheless.
Well, I have 3 free hours this Sun AM, and I am going to take one more pass thru a zone that I failed to complete.  Hopefully one more silver will pop out, but I am not optimistic.