I fought my back issue Tuesday and Wednesday to detect a bit.  Was skunked on Tue, but it was an old field, an all or nothing site.  Wed was closer to a zone that had given up the goods in the past, and closer to an old building.  I did not recover many targets in this zone, but got a deep silver quarter (it was in a wet zone, and you can see later in the post how years of mush and standing water have abused it), and a rather nice copper for Chester County in a drier section, an 1800 draped bust large cent.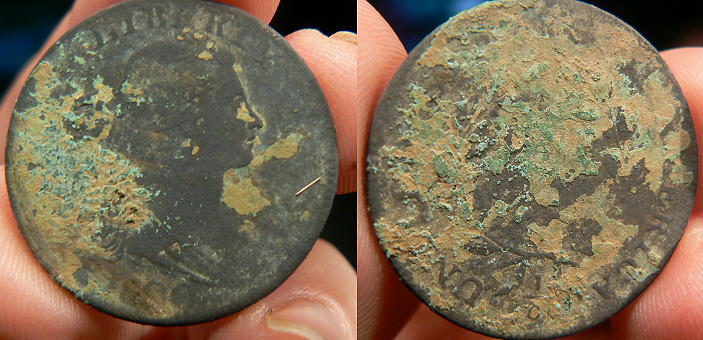 It is still abused, of course, but does have full liberty and some hair detail.  If you can believe it, it is one of the best coppers I have ever dug, and will likely earn a low spot on my best finds list.  It is also my 20th copper of year, a personal record.  It came in at 11-45 on the E-Trac, and was only 4 inches deep.   It was right on the edge of the site, near a road.  Often you can get coins others have missed near the edge of zones.  (This is a private property site which I have permission to detect, but during my time here, two other detectorists have come on the property without permission.  I may blog about that someday, and the lack of ethics in the hobby in general.  We'll see).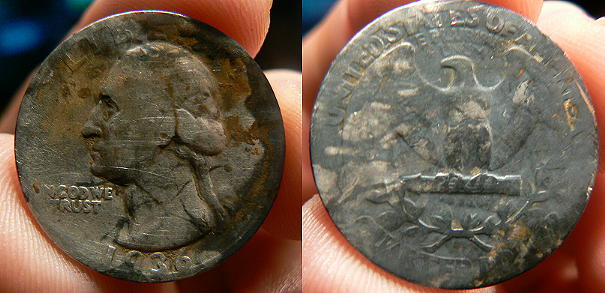 Speaking of which: Last Sunday's hunt, mentioned Monday, was a scam.  I wrote a long story Tuesday about it on how I used economics to work it out about an hour in, and then was lucky enough to see three pieces of physical evidence to confirm it.  I pulled the story, cause a), it sucked, b) it was was too long, and c) the whole thing really isn't worth ink or server space.  I guess I'll leave Monday's stub up, which was put up instead of a story to see if others would work it out as well.  I'm happy to report that at least 2 others did.  The coolest thing about this, tho, was it was really cool to get a real life puzzle to work out.  I guess that was the find of the day for me.