As much as today's hunt deserves a story, it is way past my bedtime, so it will have to be brief (which, of course the way I blog, is relative).
First part of the hunt I dug 17 straight pennies. Nothing else. Unreal.  11 wheaties, 1 abused large cent, and 5 memorials.  Most of the wheaties were old; 6 of them were 1920 or before, one was 1923, and one was dateless, but I believe in the teens.  Where's the old silver?  Where's any silver? By my ratio of about 2.5×1, I should have had 4 silvers by now. (The copper is my 19th of the year, which ties a personal record).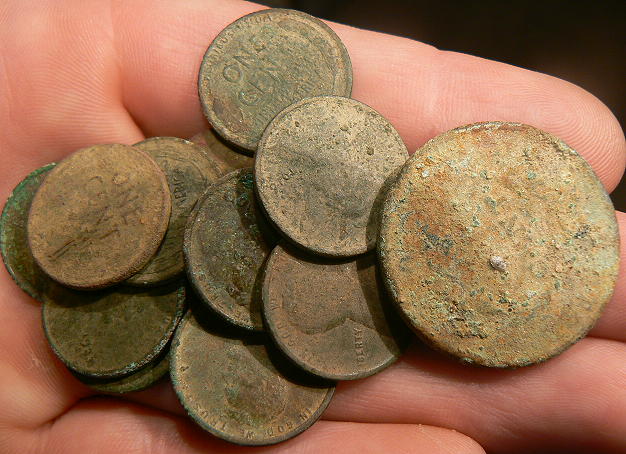 Eventually I got a 1929 merc, and started to feel better about getting some silver.
And then I got not one, but two big ol' silvers.  First was a 1902 barber half that rang really weird, bouncing between iron and a silver quarter; I can see how this may have been passed over.  When I first saw it in the hole, the way it was covered and angled, it looked like a Morgan dollar.  For a moment I though I had my first Morgan, but it wasn't to be.  This is my 5th career barber half, and 12th silver half of the year.
Shortly after that, I got a deep dime signal, I'm thinking maybe seated, but it turned out to be a 1807 Spanish 2 reale on its side.  Sweet!  My 5th career Spanish silver, and my 2nd 2 reale.