I'm liking this new Detech Ultimate 13 unit.  Pulled 4 silvers today, including a half dime.  The half dime, an 1899 Canadian coin (too bad, a US half dime would have been cooler), was the second silver of the day, and the 900th of my career.  The half dime rang at CO 39; I figured it was a wheatie.
Also pulled a 1900 Indian and an abused copper.  As near as I can tell, the copper is an 1816 LC, tho it is so abused it has to be scored as an unidentifiable.  Since I also pulled a wheatie today, I get the penny trifecta (missed the dime trifecta yesterday cause I could not pull a rosie instead of 3 mercs — of course I'll take the latter, but got the rosie today.).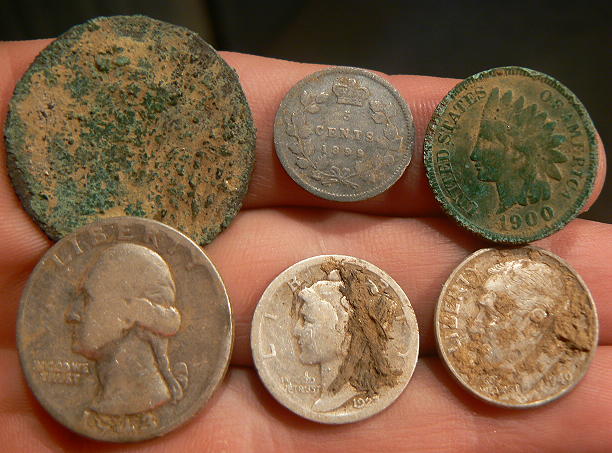 The copper really showed off the Detech Ultimate 13′s depth for the first time.  It was at 11 inches (measured with a tape measure), in dry dirt.  The signal was solid and repeatable, tho bouncing between a conductive and ferrous target.  I gave it a 50/50 chance of either; but it was clearly a dig me signal.  Too bad I didn't have the time to test the stock coil on this one for comparison. 11 inches for a repeatable dig me signal is good around here, in our mineralized dirt, especially when it is dry.
But, the biggest win was the Detch 13′s pinpointing.  As I mentioned yesterday, it actually works, and works well.  I'm surprised it works so much better than the stock coil (to be frank, pinpointing with the stock coil simply doesn't really work.  Maybe I have a bad coil, I dunno). So, that's a win.
I really like this coil so far.  I'd like to try it in heavy trash in the near future, when I'm done working this section of this site.