Back from a month long road trip, from Chester County PA, to Yellowstone, down to Arches, Canyonlands, Monument Valley, Grand Canyon, and Sedona.  My family joined me for those parts, as they don't have my love for tedious long drives.  Almost all of it was done on rural highways, except a good bit of the part coming home from St. Louis.
Anyway, I did some detecting on the trip, but not much, all of which I think I posted, so this is a bit of double dipping; here's the take –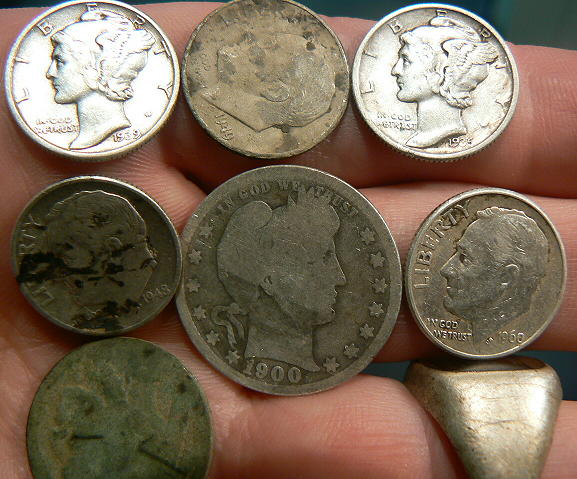 Six silvers, a buffalo nickel, a silver ring, and about 20 wheaties.  I didn't detect all that much, especially on the way back, and not at all when my family was with me.  It was also brutally hot for the most part (hitting 110 in Arizona when I was there, and consistently over 100 everywhere else, except Yellowstone, where it ranged from 39 to 70).
And, I added 4 states to states I've found at least one silver coin in: IN, IA, NE, and WY.  I now have 10 states I've found a silver coin in (us geography geeks track everything).  I will say one thing (and this is something I already knew); finding silver in places you just drive to, and have never been, is hard.  Its much harder than finding silver in your home turf where you sort of know what is where, always are seeing prospective places, and have time to do research.  I did do a bit of research on some random towns on the way out, but the way I travel, I never really have a clue where I'll be next, and then you have to do it on the fly, and you don't have much time, so it can be hard.  That's why I was quite pleased to find a barber quarter, as they are quite hard to find anywhere.
Anyway, despite the fact that I didn't do alot of detecting, having detected in so many places now, I continue to build up more of a feel for the local challenges and advantages detectorists face due to where they happen to live.  Too bad "that forum" isn't so enlightened.  It would be fun to slap 'em around a bit more, but just forget them better still.
Now that I have a bit more time, I hope to update the stories where I did find silver (and maybe where I didn't), over the next week or so.  Its hot here, and the ground is rock hard, so I don't know when I'll be detecting here again, hopefully next week; we'll see.
(Oh, and one more thing, it is a real hassle to leave comments now.  I had to make that change since after I posted a link to the blog to my facebook friends, I just got slammed with spam.  Too bad this blog software is so stupid that it can't deal with it in a reasonable and easy way.  So, I made a bad choice on that score, but that is life.  There was no way I could fix the problem on the road (you have to muck with these goofy plug-ins rather than it simply being a built in solution, as it should be), but now that I'm home, I may look into it.  Until then, comments are a hassle.  Not that there are many readers or many comments, so maybe I won't bother at all.  Certainly a low priority in my life right now).