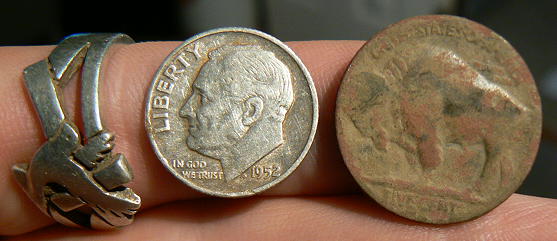 Got out to a site I hit a bit last week, to a section I thought was promising, as I hit 3 silvers just milling around rather than gridding last time, but today it was quite dead.  Did pull a couple of wheaties, a dateless buff, and a 7 gram silver ring that sounded like a walker.  I was hoping for my 10th silver half of the season, but was not to be.
Then, just literally with 10 minutes left before I had to get back to work, I pulled a hunt-saving rosie.  Was only at 3 inches as well.
I have a suspicion that there is plenty of deep silver at this site, and that I am just not seeing it.  The mineralization is just too brutal.  I love the E-Trac, and it has pulled 21 silvers out of this site, but I'm wondering if different technology, like a TDI, might be the way to go.  Not sure, really, and certainly cannot justify either the expense or the learning hassle of that experiment, but the scientist in me wants to know what technology cuts thru brutal mineralization (and can still discriminate iron trash).  I wonder if the new 3030′s software is better able to deal with mineralization.  This site would be the perfect one for head to head tests.