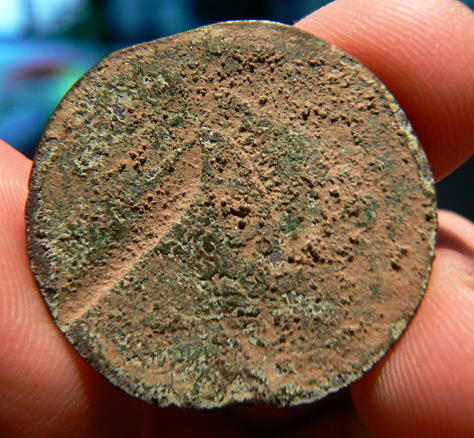 Got out today for the first time, I think, since last Thursday or Friday.  I had a nice silver streak going, but today it was snapped at 11.  Oh well, all things must pass.  Hopefully the ensuing slump will do the same, and rather quickly.  I've only had one stretch of 2 days without silver since April of last year.  That's good, as these things go (or so I think, anyway).
I did, however, pull a copper (a large cent, dated anywhere from 1817 to 1857), which is quite abused, as you can see (well, "quite abused" is kind; its garbage, as you can see).  This is the sort of thing they say on the forums: "only a detectorist could love it".
Well, I'm a detectorist, and I hate it.  Who could love it?.  I'd much rather pull the proverbial 64 rosie with a hole in it, or a clad quarter, which is worth 6 times as much (never let an economist write MD blogs, or especially never let a cynic, who supposedly knows the cost of everything, and the value of nothing. But, is there a difference between the two?).
The coin does have a value, tho, and that is what we call "validating the zone".  (It also has a value in allowing me to blog tonite; who would blog a clad quarter?). Says the zone has old coins.  Problem is that I covered the zone pretty good (or "well", as my wife would say, and she's always right), and this was the only old coin.  Maybe there are more, we'll see, but I'm not too optimistic.