Career copper #100 today.  And, it true tradition, it is a complete unidentifiable toastie.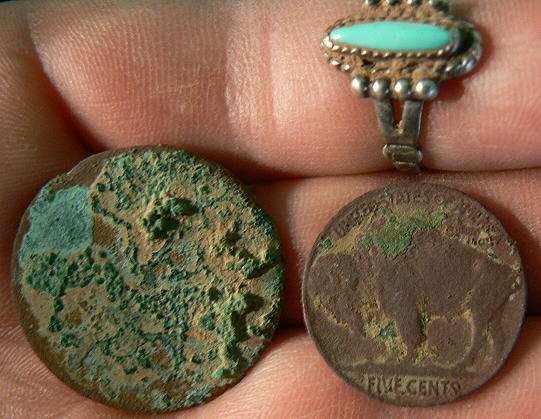 Also a 1919 buff with the front toasted, a sterling turquoise ring, and a handful of deep wheaties.  No silvers, and that's too bad, cause there should have been.  Oh well.
This is a new site, a field where there was a baseball diamond on the 30s aerials, but it was gone by the 50s.  I had high hopes that no one remembered it, and the competition had overlooked it, but it was not to be.  Targets were sparse and deep.  There prolly were not a ton of targets to begin with, as it is not near a large town, but there should have been at least 1 stinkin' merc for 3 hours of trouble.  Thought I had one right at the end of the hunt, but it turned out to be that sterling ring.
Also found another ring that rang in high, but was stamped 18 and then a crown symbol.  I think that means its supposed to be 18K.  I think it was gold-filled, as the metal tested as gold, but I could see copper everywhere.  I think it was pretty old,. cause it was deep like everything else.  Prolly $10-20 bucks of gold on it, but the refiners won't take 'em.  Too bad.