I've been out once since 5/7 before today.  Just to close off my 76 silver site.  Didn't find anymore silvers.  Oh well.  So sad to see such a special site go.  Found 2 half dollars there, including a Barber, a shield nickel, a largie, and of course all the silvers.  Just a normal town park.  Who says you can't find silver in parks anymore?  Bet there are quite a few still there.  Found most of them in the summer of 2011, my 516 silver year.  Learned most of what I know about metal detecting at that place.
Back to the real world, where I am no longer finding silver, but, in all fairness, I rarely have to time or the circumstance to get out anymore.  I did get a rare weekend hunt in this morning tho, at an abandoned house.
Frustrating hunt, as I got alot of deep high tones, but not one single coin for about 4 hours.  It was hard to tell if the place was hunted out or not.  I did get 5 old copper buckles and a big ass skeleton key (about 5 inches long), which suggested that there could be goodies here, but there weren't.  Those buckles sound so good too, like silver pretty much.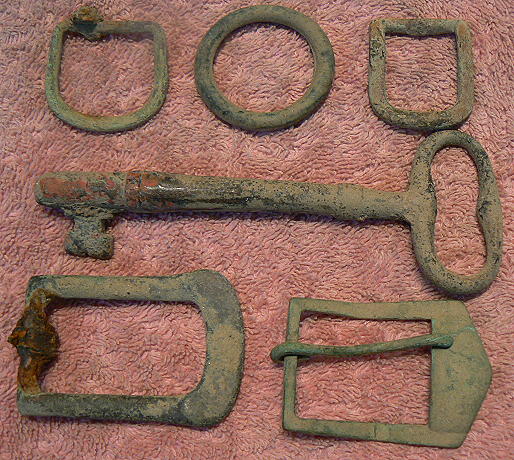 I also got a silver relic as a consolation prize, looks like the back of a pocket watch.  Its marked "junior coin No 1″, with some number stamped below it.  I couldn't find anything on this, but I'm guessing that means it is coin silver,  It certainly tests as silver, and comes in at a hefty 12+ grams.
Finally, at the very end, got the only coin of the day, a toasted King George III copper with 3 (are you kidding me?) holes.  Certainly not photo-worthy, there just for reference for the big silver thing.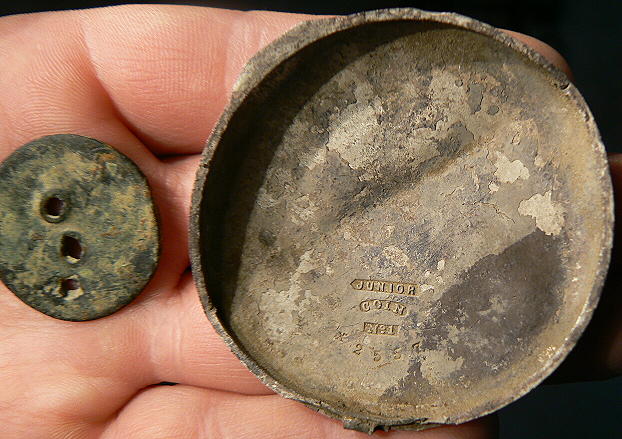 Well, it looks like that kind of year, where I don't get out much.  We'll see.