Managed to double my YTD silver count today by dropping a fivespot.  Not bad, as these things go.  Last time I pulled 5 or more silvers in a single hunt was way back in November.  Of course, we lost a few months due to the endless winter, but, realistically, the fivespot is the new double digit day.  We'll take it, cause silver coins are hard to find.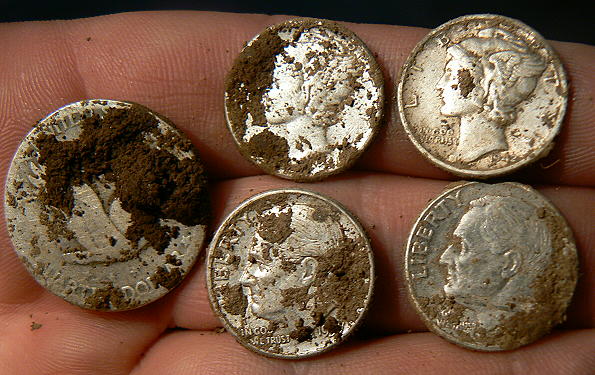 What's remarkable about this hunt is that the site is a place I've called "Chester County's most difficult silver park" in previous posts.  Now that I have 12 silvers from the place, I guess I can't call it that anymore.
But, it really is like that.  My first 5 hunts at this park produced bupkis.  Most people would have given up, but I don't give up.  Eventually, I got smart enough to do the sidewalk strips around the park, and got a couple of mercs in the trash.
Once I got the Big Unit, tho, this park seemed to open up a bit.  Outside the sidewalk strips and a stray merc with the stock coil, all the other silvers have come with the Big Unit.  All have been hard and on the edge of detection.  While I have no science to claim the Big Unit outperforms the stock coil on these targets, and while I also think this is a very high skill hobby that I've gotten better at over the years, I think the Big Unit has helped.  So that's that.
What's also helped is that it has rained alot around here recently, and the grass is short.  I doubt I would have found today's silvers in the middle of August.  I also think I was unbelievably lucky, but we'll take it. Still the (2nd) hardest park in Chester County to pull silver from.  (There is a new first, a very old park where I've hunted 6 good hunts, including with the Big Unit, and still have scored bupkis, but today's hunt gives us hope for all of those really difficult sites.).
Ok, this entry sucked, but when you pull a fivespot from a hunted out park, it just doesn't matter, does it?  Here they are all shinyed up –