Pulled 3 more silver coins today, at the site of recent entries.  This is now a 62 silver coin site; my 6th career 60+ silver site.  I didn't think the B and C class zones at this site had it in them to produce much, but that's why you get out and swing the coil.  You just never know.  We'll see how the class D zones do someday.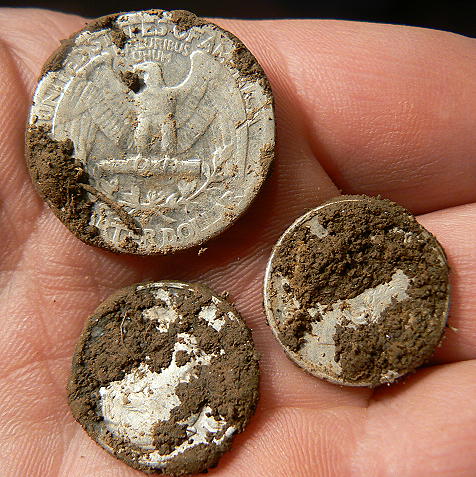 Not much to say about the hunt, except the first couple were a bit tough to nail.  Got a pretty decent silver signal after about an hour of hunting, and just couldn't nail it.  Spent about 5 minutes hacking at it, and just couldn't find it.  Decided to move on, and just a swing later, hit an obvious deep silver Q, which I proceeded to pull.
That gave me confidence to again work that prickly one I couldn't nail, and sure enough, I got it.  Not sure if it was the confidence of the silver Q, suggesting a one event spill, or the fact the the silver Q prolly pulled the pinpoint off on the first target,  Maybe a combination of these things.  Who knows?  Who cares, so long as the silver is flying out of the ground?  (Well, I care; but that is for another time).
Well, all I can say is that it is nice that we are now having our typical December weather around here, and I'm able to hunt during this holiday period.  Didn't look so good 2 weeks ago.  Today's hunt was 4.5 hours, putting the total time on my new battery at 15 hours, without a charge.  Still full bars.  Who's taking the over/under on 30 hours?  I know I'm taking the under, but, we'll see.