I didn't go metal detecting today.   I should have, cause it was nice and sunny (tho a bit on the cold side), and all you want to do is get back to a big fish site as soon as possible (even tho you know rationally that the odds of another one are vanishing low). Instead, I felt like taking a day off and savoring my victory.
But, I did process this button I found yesterday on the same hunt.  I didn't feel like processing it yesterday, cause I was too busy celebrating.  Its not much, and I'm not one to get too excited about old buttons, but its c. 1830-1840 or somesuch and gilded. Normally I would whine along the lines of "why can't it be a coin from the same era?".  Fortunately, I don't have to do that anymore.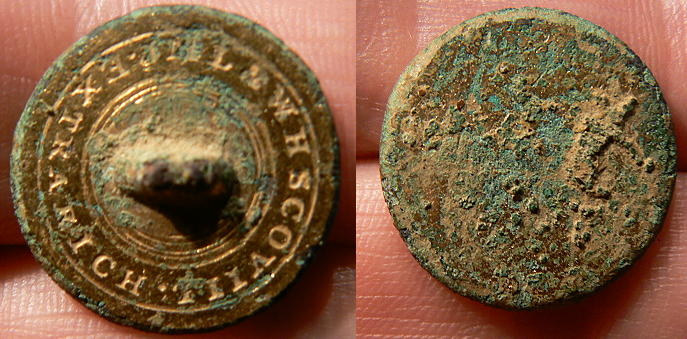 I did take the time today to write up that bust half in Minelab's Find of the Month contest.  I hope I win.  If I don't, I'll be curious to see what does.  The thing about my coin is not only is it a big fish, but it is in stunning, problem free condition.  That seems like a double whammy that is hard to trump, and I hope the judges agree.  We'll see.  (That said, I'll prolly forget to check back).
I entered that contest once before, with this entry.  I didn't win.  I should have. cause I think its a hard story to trump, and I don't play games I don't expect to win, tho, admittedly, I never checked back to see what actually did win.  In any case, this is an amazing quote from that story: "including a streak of 7 straight hunts where I pulled at least 10 silver coins" — Are you kidding me?  Those days are gone forever, but yesterday's find sort of puts a stamp of contentment on my career, so that I long for those days slightly less.