Here it is –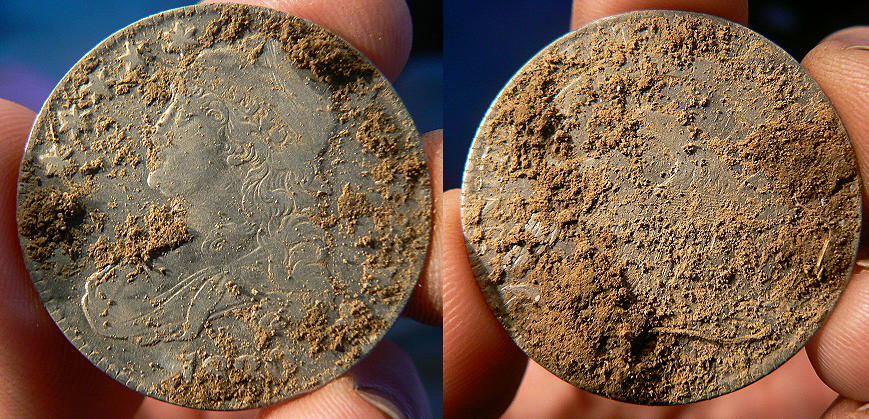 And here is is, all cleaned up –
Oh my, it is a beautiful coin for something that has come out of the dirt.  I think if you click in the pic, you get a bigger one, and it looks even prettier.  I am so jacked about this one, baby!  22761 coins dug, and just my second bust silver.  My first was in the spring of 2010.  That was a very long time ago.  That's how hard they are to find, at least for me.
Came in deep bouncing between an 01-42 and 22-something.  Could be ferrous, maybe a copper.  Got down about 8 inches and saw the rounded silver edge, and knew it was a silver coin, figured it was 2 reale, popped it out and saw the eagle first, and my mind instantly said walker, flipped it over, saw the bust, and I knew I had my second big fish!  Big fish baby!
Detected for about an hour more.  Found a gilt button.  I didn't even bother to process it.  I wasn't sure why I was still detecting.  I couldn't focus.  I just wanted to get home and process this baby.  Its an awesome coin, and I don't care if I never dig another silver again.
Big Fish Baby !!!!!!!!!!!!!!!!!!!!!!!!!!!!!!!!!!!!!!!!!!!!!!