Back to the 7 silver site in the woods, the one with all the wheaties the first time I was there, and no silver this past Friday.  Just cleaning up the last section, and pulled a pair of silver coins.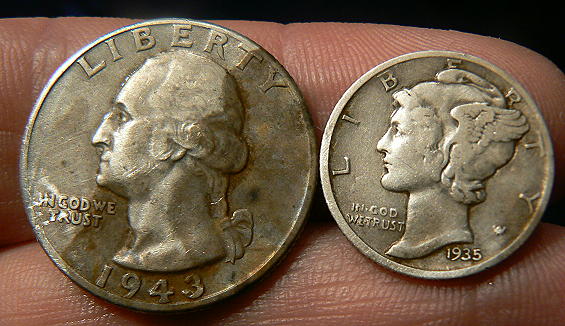 Its kinda fun to just be moving thru thick woods, and randomly get a silver coin.  And it was pretty random, as I had no reason to know where things might have been, or not, in this section of the site.
The Q was interesting, as it came in as a 10-42 on the E-Trac, which is really weird.  I thought it had a chance to be a thin dime as they come in low sometimes, but turns out there was a wheatie above it, and wheatie below it.  I expected a wheatie, of course, and was quite pleased to see that shiny edge sticking out.  For a moment I thought — oh my, it must be a bottle cap.
Got another 10-42 a bit later, and no such luck this time, a greenie meenie wheatie.  Pulled a total of just 6 coins on the hunt, 4 wheaties, 2 silvers, and no clad.  Sweet.  Pretty sparse site except for that first day when I dug close to 50 older coins.
Well, that's that, the site is closed, a 9 silver site, about 50 wheaties, a couple of buffs, an IH, and a toasted draped bust half cent.  Time to move on.
Interesting site tho.  Turns out what it was was the site of an old town that was first settled in the early 1800s, but had become overgrown.  There was an old ballfield on both the 30s and 50s aerials, and I had been drooling over the site ever since I got an MD.  The problem was that the woods were always too thick, until recently some of them were cleared for construction.  Got in there on that first day, and did quite well, tho only one really old coin back to the early days of the town.  Too bad on that.  My guess is that it was a virgin site, as it was pretty undetectable due to the vegetation where the ballfield was.  I had been in the less dense sections of the woods in the past, but never found anything, but I have better tenacity and technique these days, and the confidence that there was stuff there, and was able to get a couple more.  It was sparse tho, outside the ballfield, but the town was small as well.