Pulled a couple of rosies today.  Woohoo.  Silver coins are hard to find, so we'll take 'em all.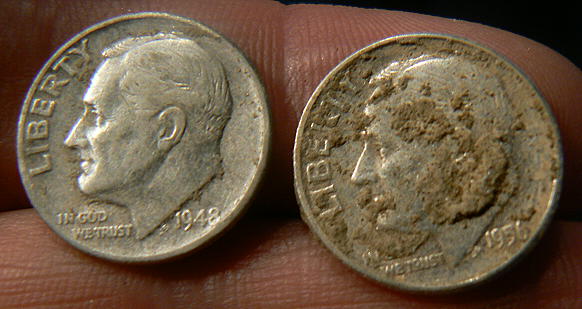 The last time I was at this site was in May, 2010, when I was still learning the E-Trac.  I pulled a walker on that day, and a few deep wheats, but not much else,  I wrote the site off at the time, due to the low density.
But, you learn alot in the intervening years, and I was to meet friends for lunch in that direction, so I figured I'd give the site another go,  It was still really low density, and every time I said — just one more rank of the grid — if I don't get a good tell, I'm outta here — I seemed get a good tell, so I soldiered on to a rather pedestrian hunt which eventually produced the rosies, on the same rank of a grid, about 20 minutes apart.
It might be another 2 or 3 years before I'm back here, as there isn't much left of the site, but at least it is another old legacy site that I'm able to update in my database.
Did have 2 hunts earlier in the week, each of which might otherwise merit their own entries, but we don't like blogging failure.
The first was at the field site that produced that really sweet 1803 half reale, as well as that hideous large copper.  I spent 5 more hours in that field, and did not dig a single coin.  Are you kidding me?  I guess that is what field hunting is.  I was praying for clad, just give me something to dig.  I only got one high tone in 5 hours, and it was a colonial era buckle.  Not only that, my battery died — this is a fully charged, supposedly 18 hour E-Trac battery, that died after 5 hours.  Are you kidding me?  I hate leaving time on the table, especially at a permission site.  Fortunately, the permission doesn't expire, and I will be back.  Field hunting has a certain contenting appeal to me, even if you rarely ever dig anything.
The second was Farewell Farewell at the other site I've been working, the one that produced a sixspot the other day.  Dug plenty more wheats, met my wife for lunch, drank Victory beer at a local restaurant, went out and dug more wheats, and didn't even close out the site.  Maybe this week, we'll see.