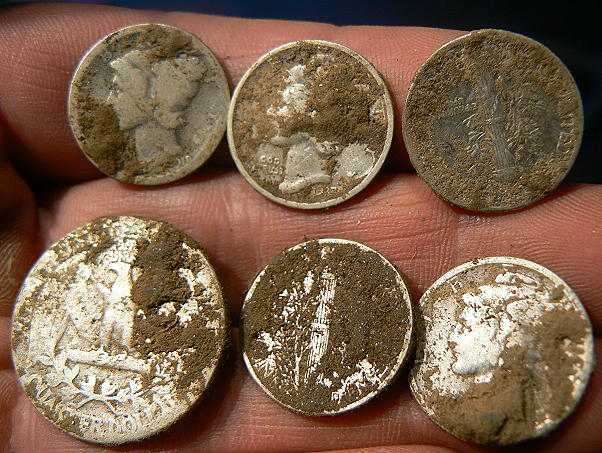 Now that's more like it.  After 21 straight wheaties without a silver, today's hunt started out with 4 more, before I finally saw a merc in the hole.  25 straight.  Are you kidding me?
But, it gets worse. After I found the merc, I dug another 23 wheaties in a row, just in today's hunt! before my second silver of the day, another merc, which is in with a buff.  Unbelievable.  I had one where there were 6 in a hole, and another just past it, with 3.  Not a silver among them.
Things calmed down a little bit; I finished the hunt off with 4 more silver coins, and 12 wheaties, still above my normal ratio, but much better than very recent memory.  The total is an unbelievable 39 wheates on today's hunt (I'm surprised that isn't a record for me; turns out my record is 41, but on that day, I dug 23 silvers, and that was a 12 hour hunt.  Today just 6 silvers for a hideous ratio of 6.5:1).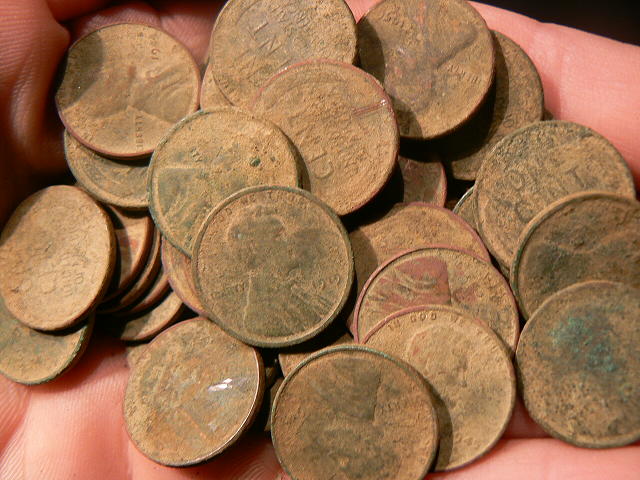 I have no idea what is going on.  I find it hard to believe that it is cherry picking, as the site is old enough to have bust and seated silver, and, if so, you've got to dig all of these.  In fact, I found a draped bust half cent (no date, and no detail in the pic), so I know first hand that really old coins that could ring up anywhere have the potential to be here.  I have no idea why the ratio is so whacked, but this could of, and should of, been a 15-20 silver day.  It just wasn't.
But, I did get a potpourri of old coins.  In addition to the 6 silvers and 39 wheaties (the oldest being 1919), I got 2 buffs, a decent looking 1904 IH, and the abused draped bust half cent.  I only dug 7 clad coins, 2 of which were a 1939 and 1940 nickel, so it was a nice hunt overall, but could have been a blowout if the ratios held true.  Total hunt time was 7 hours.