Here they are –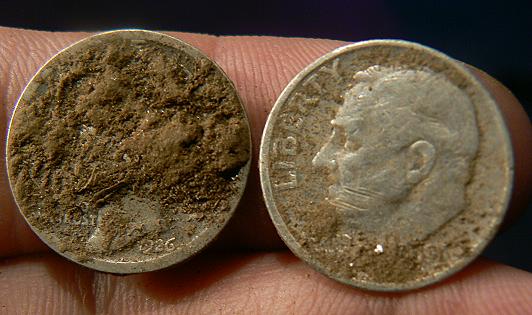 I think its gonna be a short entry.  Dug a couple of silver dimes today, as you can see.  This is at a 23 silver site (now a 25 silver site), that I first hit last spring for 2 silvers, and worked pretty good for 21 more last fall.  A couple of locals had said the site is hunted out, but I managed to pull a walker, reale, a couple of coppers, as well as the remaining 20+ silvers.  Never believe a place is hunted out until you work it yourself.
Today was just cleaning up some loose ends at this site, like I've been doing at other sites.  Might as well get 'em all, if they are there.  The rosie was on an embankment, and I like to think I'm brilliant for pulling silvers from an embankment when the competition ignores embankments, but in this case, its not like that.  Its tough to keep a tight grid on a 35-40 degree embankment, and the coins tend to be at weird angles sometimes.  It was clear that this embankment had been hunted, they just missed one.  Maybe I did too, who knows?
Of course, I've had other embankments with a much higher run rate than the surrounding site, just not today.  There is something to it, so keep that it mind.
Well, not as short as I wanted it, but that's that.  Its been a crazy week, and is only getting crazier.