Well, that gives it away, doesn't it?  I pride myself on pulling silver from hunted out sites, in fact, if I have a specialty, that is likely it.  But it is a bit embarrassing to pull such from a site I allegedly hunted out, especially after mountains of blog blather — technique this, grid that and so on.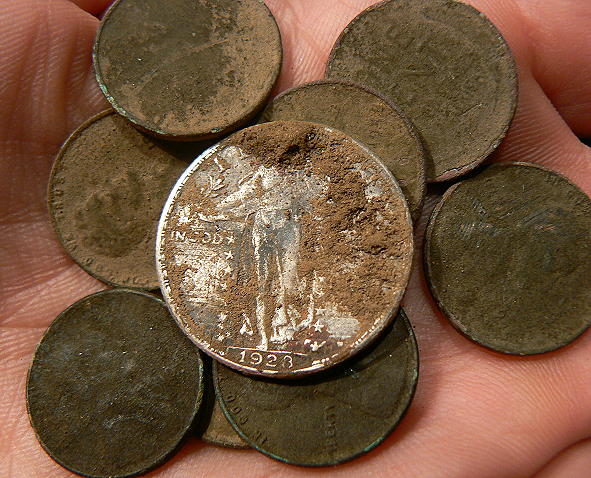 Ok, there's the pic, lets see what sort of story writes itself today.  There's always the morning edit if its absolute garbage.
I don't have a killer site at present (I have a ton in the "almost close me out, but there might be a few more here" state), and have had no time to research, and the weather is beautiful, so its best to not waste a beautiful day, even if you have no where to go.  Research is for rainy days.  So, when in these situations, I go over my old sites and try to close them out, or at least transcribe my paper logs of the site into Google Earth, or look for areas of the site I may have missed.
Today's site for that treatment was a 38 silver site I worked pretty hard in late spring of last year.  Its a huge permission site; I worked the best areas day after day, then called it a site, but never really closed out, since there is so much terrain left.  The remaining terrain could be good, but there was no positive evidence that it would be, so I moved on.
Later, I discovered a 100 year old map of the site that showed a house in an area that is now overgrown fields and woods.  Of course, I made a note of it in my site database (tip — if you are a newbie reading this, design a reasonable and easy to use site database, and maintain it meticulously.  It helps, trust me).
Anyway, today's plan was to hunt the fields and woods near where the house was.  I was a little queasy on permission etiquette — the permission from the power that was, was "yeah, no problem", and for 6 weeks last year, it was, "yeah, no problem".  But, do these permissions ever expire?   Its an interesting ethical question after 17 months, but the bottom line is that I didn't sweat it.  Should I have?
So, onto the site, and I figured this was a good chance at a big fish; an out of the box section of a permission site with an old mansion that was at least 100 years old, likely older.  And, fighting tall grass, woods, vines, poison ivy (tip — if you are a newbie reading this, wear gloves.  Of course, you already knew this; I don't think clueless newbies could even find this page), and I was surprised at the number of high tone targets.  The competition had not been here, or, if they had been, they were brilliant cherry pickers, cause all I found was wheaties.  Are you kidding me?
Here I am in chest high grass, killer poison ivy, brambles, out the box on a permission site with an old mansion on the old maps, and every high tone is a wheatie.  Give me a pfuc [well nevermind] break.   Eventually I a got a sweet high tone, a 10-48 or some such, and what was it — a massive clad spill.  Are you kidding me?  A 6 coin 70′s clad spill at some random spot in the woods.  Of course, it wasn't totally random — there were beer cans everywhere, obviously a 70s party site.  Based on the brands of beer represented, it was clear that the partiers had no cultural acumen to know not to throw bad brand beer cans around on a prime metal detecting site (much less drink that swill, which is obviously the larger crime).  Sheesh.  Who educates these people?
8 wheaties, no silvers, and that zone is done.  No big fish.  No little fish.  No minnows.
So, its back to the car, back to work, which has me traversing the area I had gridded out last spring.  I had a bit of time, so I decided I'd run a transect across this hunted out area from the woods to my car. and out pops that SLQ.  Are you kidding me?  From an area that I had marked as hunted out.
I understand when you grid out a site, you might miss a deep, thin dime (and my grids are meticulous), but to miss a Q.  And it was as loud as a heavy metal band; I knew it was a silver Q before I dug it.
Of course, this isn't a controlled experiment.  Chanel may have been different last spring,  Ground may have been drier,  I know the grass was thicker, costing me an inch last spring; today it was cut like a putting green.  The coin was also somewhat on its side — if perfectly on its side is 90 degrees, this one was at 75-80 degrees.  Maybe it shifted in the past 17 months.  The other factor is that I was using the big unit today, but the stock coil at that time last year.
But, all the pseudo science BS aside, I should have got it last time.  I just didn't, and that's that.  BTW, I have done this many times — transected areas and grids during the closing process that I figured I've cleaned out, and only once ever found a silver.  I do this to validate my approach — just goes to show that no site is ever hunted out, and those who think they are perfectly meticulous are really just perfectly arrogant about their skill.  I guess I fall in that category, at least on this one.  I do know, however, that the run rate at the sites where I've missed 'em would be so low as to try my patience, so its sort of an opportunity cost and time optimization problem at that point (gotta throw some econ jargon in, don't we — its what we do — but I personally believe an approach to metal detecting from an economist's point of view simply leads to more silvers.  JMHO, of course).
Yikes.  Don't think I'm gonna like this one in the morning, but I don't think there are too many bad words, so I suppose it will stand, as in the larger zeitgeist of metal detecting, it works, at least for me.  Now I have to go to work.  Bummer.  At least I can gaze at this beauty all shinyied up (forgetting the tarnish and so forth) –