Well, here's today's take from the site of the last couple of days.  As they say, any day with silver is a good day.  In all fairness, I did lose over an hour at lunch for Farewell Farewell Friday, and the place is far from where I Iive (more commuting, less detecting), but it was still a struggle today.  (Too bad the thing is out of focus; autofocus on my camera has been broken for years — I think it is more of a miracle that many of the shots I have put up here have been in focus, but for a single rosie, ain't worth my time to work it more) –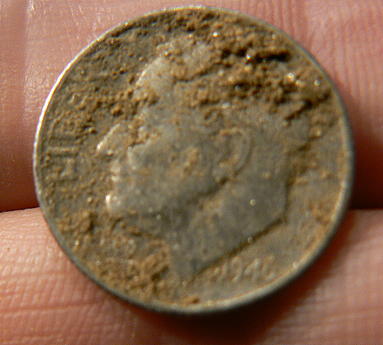 So, it seems to be all about the dirt thing, as ducktrapper suggested in the comments on the previous entry.  What's with that?  Generally, in my experience, hard bare dirt with no grass is good (this clause officially approved by the department of redundancy department).  That's cause all dirt is is decomposed grass, cycled by earthworms, grubs, and so forth.  The cycling of the earthworms, et. al., cause the sinking.  So, if you have no grass, and the dirt is hard (meaning nothing lives in it), things should never sink.  Think about it.  And, that's been my experience in general; I've pulled plenty of 100 year old coins in shady areas with no grass and hard dirt just an 8th of an inch below the surface.  While I am no soil scientist, this common sense approach to why stuff sinks and not has always worked for me, and has always lead me to seek out the hardest, grassless dirt I could find, and has always lead me to silvers.
But, today, and on previous days, it has been a struggle.  Whenever I move from the edge to the middle where the dirt is grassless and hard due to athletic activity, the deep targets have dried up.  Why is this inconsistent with my previous results, and consistent with ducktrapper's results?  I don't know; I'm an economist, not a soil scientist.  As an aside, the athletic use patterns at this site have changed since the 30′s aerials.  Not sure if that is useful or not.  All I can say is that the grassy areas continue to have a decent auto rec (20+; less mineralizaion), while the hard, grassless areas have a crappy auto rec (19-; more mineralization).  Why is that?
The rosie was a struggle.  It was in a 19 auto rec zone at 4 inches.  Wasn't sure it was a silver, and generally, I usually am before I dig.  As a tell on this problem, I dug 15 clad dimes today, when usually, in much longer hunts, I dig much much fewer than that.  That is how hard it was to read this ground.
Why does any of this matter?  Now I get to be an economist.  Its cause if you can read large parts of the site as worthless (loaded with silver, but undetectable due to these reasons), you can write them off, and move on.  That may be what I do with most of the rest of this site. or, I may grid it out, just in the interest of science, but I have not gotten one old coin in any hard, bare zone.  But, the other problem is that the hard, bare middle is, well, in the middle,  Remember the middle is always hunted out before the edges.  Sheesh, what is one to do to optimize?  Who knows?  Is it dead cause it is the hunted out middle, or dead cause of the hard, bad auto rec dirt?
Yikes, what a horrific entry.  I don't like not having the answers, but at least I think I am asking decent questions for those who wish to optimize.  I think it may come down to tracking silvers by auto rec; I suspect there is an auto rec (and I'm thinking that number is at about 18 or so), where which, if the terrain is giving you that, you won;t find silver, and that may be the way to simplify the problem.  Of course, this simplification doesn't account for the earlier observations that old coins don't sink in hard, grassless dirt.  Sheesh.
And people think metal detecting is easy — it beeps, you dig.  I don't think so.  It actually prolly the hardest thing I've ever done.
And, BTW, I wish I had time to comment on the research on that pendant.  I don't, really, but I think it is cool.  It would be cool to give the thing to someone who thinks it is valuable in a non-monetary sense, but that research seems like a rabbit hole.  I'm due to send off some silver bling to the refinery; I think I'll hold that one back and think about it.