Back to Monday's site.  Too bad I could not get out more this week.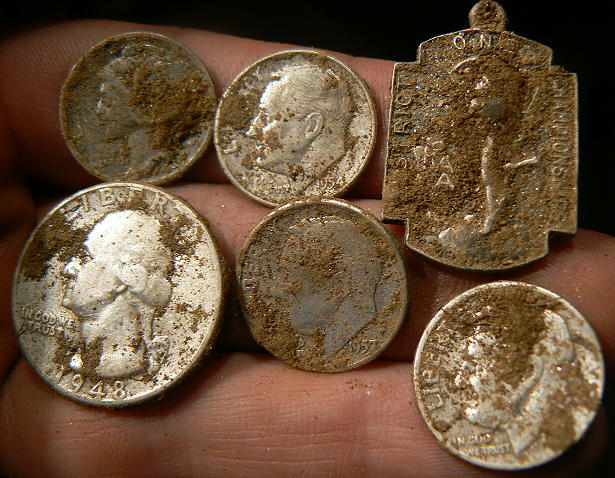 Just to recap, this is the site that gave up a cache and a total of 7 silvers in a sort of side zone, nothing but wheaties in the side side zone (the zone I actually thought had the most promise), and nothing ever in the large, main zone until Monday, when I dropped a 4 spot, working the edges.
Its a huge site, and has lots of edge real estate, so I kept at it.  Didn't expect to find anything, and was figuring to work it today, and do Farewell Farewell tomorrow, and was quite shocked to find 5 silver coins as well as a deep silver pendant.  We'll take it.
All the dimes were hard. One came in as an 01-30, but when you get a deep, tight signal in a highly mineralized site, you dig.  Too bad it was just a rosie, cause this site is 1870s old.  But all that old stuff is just of range due to the mineralization.  The Q, OTOH, was a slam dunk, tho I did dig my share of deep clad quarters.  Outside the Q, it is a patience and technique site for sure..
I think the pendant is kinda cool, cause I am a runner.  It looks like a medal for winning or participating in a running race.  Its rare that bling is dated, but this one appears dated 1935.  Really cool.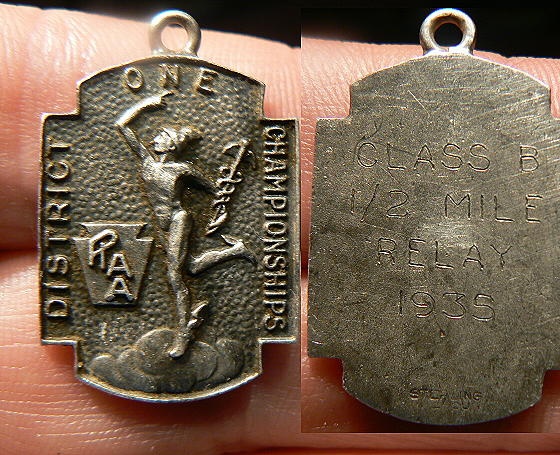 The site is hard to figure, but I suppose as long as the big multi days are flying out of the ground, why over think it?  My plan was just to work it a bit today, find nothing, then do Farewell Farewell tomorrow after finding nothing.  Now, I see blood in the water, and don't know how long I will be here.  Its weird, tho, all the silvers in this zone have been in green grass where I have gotten a decent auto rec.  Nothing in the grassless areas (and those areas are grassless due to athletic activity, not lack of moisture).  So, what's with that? Correlation, of course, is not causality, but there must be something up with that.  Lets hope not, cause there is very little verdant grassy area left.
In any case, since it is now a 14 silver site (actually 16), I'll still do the local lunch thing tomorrow on Farewell Farewell Friday (haven't done this in forever, cause a) I'm trying to lose weight, and b), haven't had a 14+ site in forever (except last weekend, but that was a weekend and I closed the site).
Bottom line, this section of the site is really hard to read.  Could be pretty much done, or could still be a 25 to 50 silver site.  I think we top out below 20, but, as always, we'll see.