Not bad, not bad at all.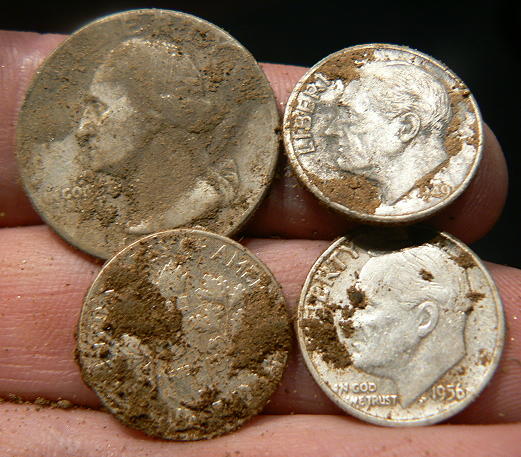 Back to that park where I found that cache on 9/13.  Wanted to see if wet dirt made a difference in the "main" zone, where I had yet to score a silver.
I expanded the grid I had been working, and it did not seem to make a difference; at least I didn't find any silver.  Of course, this test isn't scientific unless you use the exact same target, but I was hoping it would have, as the site is huge, and I wanted to open it up.
Moved to a different section, and did much better, finding 3 rosies rather quickly.  Then in that edge section right by the road where all the trash is, found the Q.  First Q I've found at this site.  To any newbies, always work that yucky edge trash zone right by the road.  Good stuff can lurk there.
I don't know that the damp ground helped.  What helped was better dirt, I think.  There was a correlation between a good auto rec (20-24) in the zone with the rosies, and crap one (13-16) in the silverless areas.  I imagine that pretty much tells the story,  Unfortunately, most of the park is the latter, from what I've seen in my scans.  Too bad, cause its huge.  Bet there are 50 unreachable silvers here.  I've got 11 so far.
Oh, and this marks career silver #1200 (1201 actually). Who hoo, another milestone.  Of course, I know a guy with over 40,000 …
Here we are all shinyed up, tho that Q is a bit beat –