Back to yesterday's site (who wouldn't?) to finish it off, and had a nice day, pulling a barber Q, a pair of mercs, 9 wheaties, and another toasted Indian.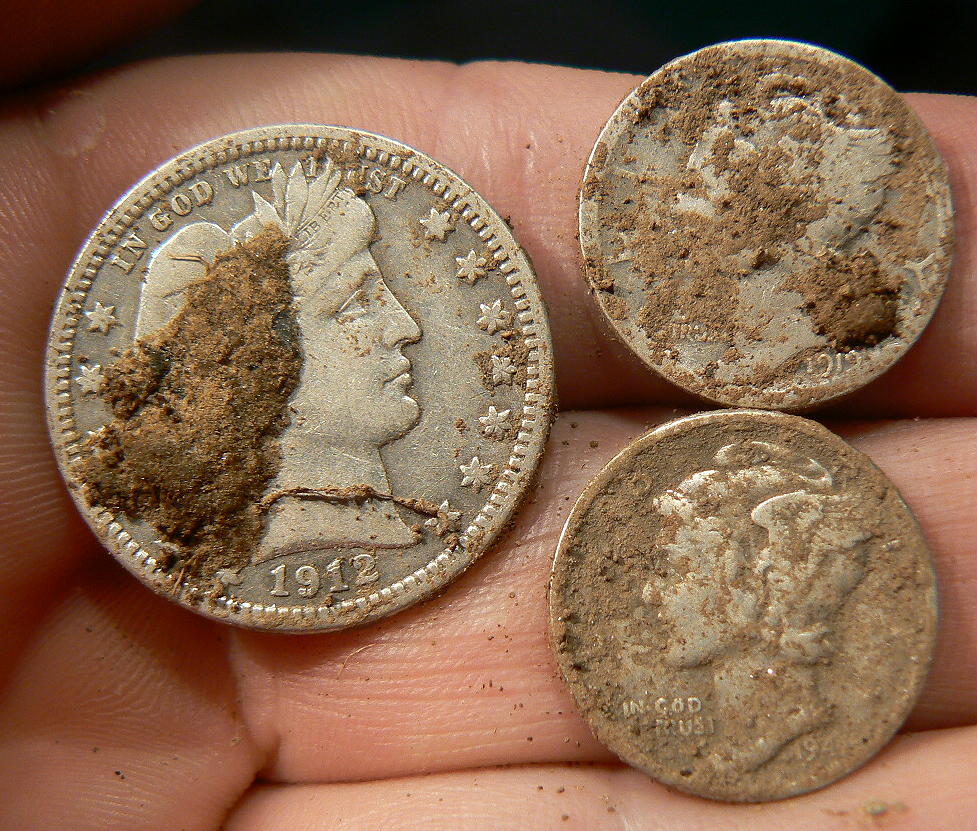 The barber Q was hard, and I almost didn't dig it.  First of all, I was running on channel 7 (and despite having found nearly 1200 silvers, I have never ever found one on channel 7 (I think its a crap channel for silver), but for some reason, there was brutal EMI here today, and channel 7 was by far the quietest for some reason, and it did hit a reasonably deep wheatie).
When I hit the Q, it seemed like an iron false, a deep, iffy high tone with an FE # in the 20s, and when you pinpoint, its wasn't a tight pinpoint, but a long, linear, pinpoint, the signature of a false off the end of a deep nail.  But, when carefully going over the area in pinpoint mode, there was a slight drop in signal strength between the putative ferrous iron object and the putative Q, and that is the tell to dig, and there it was.  We'll take it.
I've seen this before, and I think the takeaway tip is this — when you can't tell between an iron false and a deep silver next to iron, go as slow as molasses over it, and listen for a subtle signal drop between the nail and its putative end.  If you get that, dig, otherwise move on.
The merc's were both slam dunks.  We'll take them too.  So, that's that — opened the site yesterday, and closed it today.  Farewell farewell.  I prefer sites that take 2 months to work, not 2 days, but we'll take it.  5 silvers from an abandoned home, 4 indians, and a possible extremely rare coin (we'll see at some point).  Not bad, not bad at all.  But, it leaves us wondering what our next trick will be.  I guess we'll see.
BTW, that barber Q is my 10th career, and 2nd of the year.  They are hard to find, but this is a nice one, full liberty and beautiful, shiny features.  Stunning when it came out of the dirt.  Too bad the pic doesn't do it justice –