Alot goin' on with this one, but it is way past my bedtime (way too much wonk on month end day), so it will have to be on the short side (for me, anyway).
Anyway, today's hunt was at a new site, an abandoned house.  I rarely do well at these sorts of sites, as they are generally pounded to death, but its a good choice for dry conditions cause the stuff generally isn't as deep as at a park, and no one cares if the plug dies.
First 9 old coins were wheaties, and there were more if you count the ones I didn't bother to dig, and not a stinkin' silver among them.  The oldest appears to be a 1928, tho there may be one in the teens with an unclear date.
Then, I get 3 indians in a row.  Are you kidding me?  I think that is only my second multi indian day, and I know I've never gotten 3 in one day.  Of course, I rarely dig mid tones unless the site is old enough to have something good, and since there weren't many high tones, I had to be content with trying to get a mid tone silver like a half reale or half dime.  When you see the indians, you'll see why I could care less about them.  Anyway, dated 1900, 1894 (I think), and totally toasted.
Then I finally get a silver, a slam dunk 1942 merc.  Then I get an 11-47, which is almost always a clad quarter, but it was deep and sounded pretty, and it turned out to be an 1918S SLQ.  The date is really hard to make out (in fact, all you can make out is the 8, and you need a loupe), but it really looks like the 8/7 variety under my cheap loupe, and if so, it would be rather rare.  I doubt there is enough definitive evidence to get it authenticated and slabbed, so I will have to be content with almost supermodel again.  Too bad, so damn close.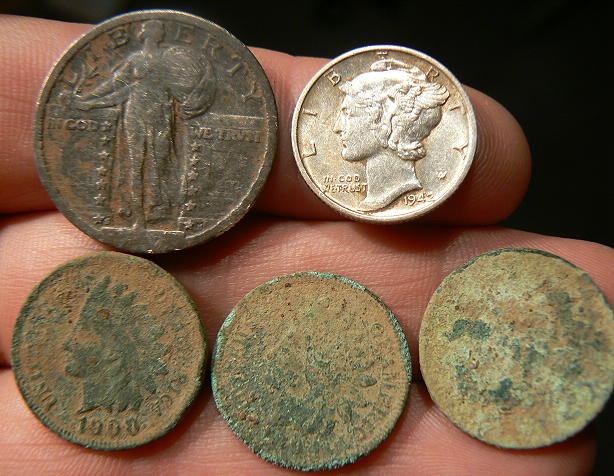 Then I got 6 more wheaties, and this US pin thing, which is about the size of a nickel, and I think brass or pewter.  I'm not a relic guy, so I have no idea how old it might be.  (I also have no idea how old the site is, except that it shows up on the '42 aerials).
I was really surprised at the number of older coins at this site; I'm usually lucky if I get a wheatie or two at places like this.