Oh, its so nice to see the shiny in the hole again.  As I said last entry, I think 4 days of hunting without scoring a silver coin is my worst streak since Apr 2010.  Prolly much more of that to come, rather than this, but we'll take it today, won't we –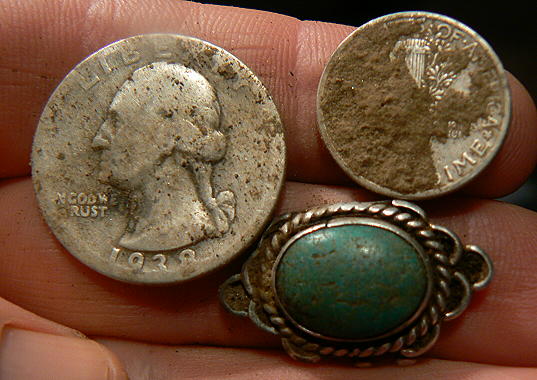 This is from last Sunday's site, which was again in the direction I had to be today.  This has now become an 11 silver site out of nowhere.  Too bad there is only about an hour of terrain left to close it out.  Interesting that today was my worst day at this site.  Sometimes you mis-estimate the potential of sites; fortunately the competition appears to have as well, tho most of last Sunday's silvers were circumstantial rather than systemic.
Well, I guess half of last week doesn't really count, but of course if I found silver, it certainly would have counted, wouldn't it have, so fair is fair?
Anyway, its what to do about the upcoming week, and it may be the case that more silver will be found by staying inside for the week (or month).  What?  Well, the fact of the matter is that there hasn't been material rain around here since I think June or so, and its not so much that the ground is rock hard everywhere, (which of course is a pain in the ass), but that you lose that inch or two of conductivity from the wet ground.  It seems to me it might be more rational, given my style of gridding, record keeping, and never being inefficient by going over the same section of ground twice, that it might make sense to wait for wet ground.  That is certainly why I tabled the recent cache/7 silver site/wheatie fest, cause wheaties and no silver seem to be a symptom of not being able to reach deep enough for the silvers, and the dry ground can't help that problem, can it?
I'd love to have a deep, iffy test silver in the ground somewhere, so I could test this rain/damp dirt theory once and for all, to know if it is BS or not. But, I don't.  I used to keep such a silver, but in 2011, my 52 hunt silver streak was in jeopardy, so I went and dug it up to keep that streak alive (fortunately, it was a silver, and too bad I wasn't blogging those days).  Oh, and test gardens are BS, IMHO — gotta be a natural silver for these experiments — too bad its so hard, psychologically, to leave one in the ground.
But, I need to know if this wet dirt hypothesis stands the test of science, or is nonsense.  Not likely I'll know for some time, cause it ain't gonna rain around here for a while to come. Hopefully, I'll find something to do this week that isn't deep silverish, maybe sidewalk strips or something.  We'll see, but likely a better use of time is chores and research.
Oh, and silver 149 for the year today.  Was hoping for 150 by the end of the quarter, so I could feel an outside shot at 200 for the year, tho, in all fairness, I spent most of this quarter dealing with my running and its injuries,. so I don't think I had close to 50.  No chance of 50 in this quarter, realistically, unless it rains, or I actually find a reasonable site.  We'll see.
And yeah, I can't door knock with the ground this dry.  All the plugs will die.  Some guys will do it; I just don't think it is right (for some reason, however, I feel no such guilt w.r.t to public property.  Well, of course that "some reason" is called "tragedy of the commons", as any economist could tell you.  It never ceases to amaze me how the dismal science applies again and again to this hobby).