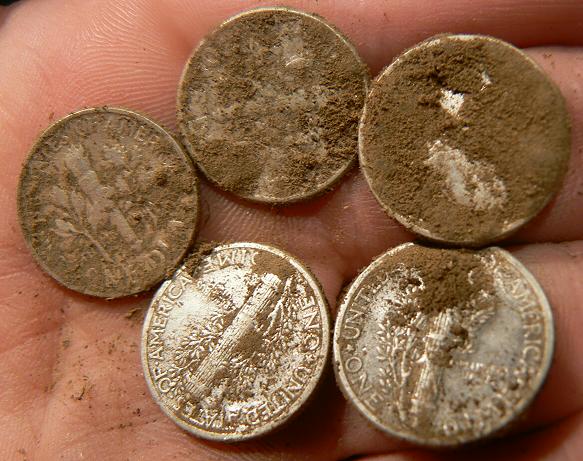 Ain't nothing awkward about that pic, is there baby!
Damn, haven't had a 5 silver day in forever.  Here's how it went down.  I don't hunt much on the weekends, but I had an engagement at noon in a particular town and looked over my database of sites between here and there, and decided on a 4 silver site that I last hunted in late Nov 2011.  Not overly promising, but not closed either.  Figured I'd close it today on the way.
I'd hit most of the zones, but there was one smallish, unpromising zone that I'd never hit, and I started there, at the edge.  10 minutes in: merc.  15 minutes in: merc.  Woohoo, we're rollin' baby!  Not much more for a while, but got in this section between an old parking lot and an old roadway, with a huge pine tree, and worked way into and under the pine tree, where the needles are stabbing you, and so forth, and hit the jackpot — a 3 dime spill with a wheatie on the side.  The signal was awkward, and working under the pine tree was awkward, but the pine tree wasn't there 50 years ago.
The competition did the same research I did, and saw the same 30′s era baseball field I did, but wasn't willing to get under the awkward pine tree that wasn't there in the 1930′s, and dig that awkward silver.  Oh well, for them, at least.  We'll take it, cause silver coins are hard to find.
5 silvers in 50 minutes at that point.  Not bad as these things go, but one an hour, more dispersed, is better, cause its systemic.  Today's silvers were mostly circumstantial, but at least they are silver.
Out of the awkward zone, and it was clear the competition had gotten there before me.  Too bad, for my hope of ever logging a double digit day again.  But, why can't these morons finish off a zone?  5 more silvers just a few feet on (but much more awkward), waiting for them.  Leaves me feeling like a scavenger (which, of course, I am, at this advanced stage of the decline.  Its not like I'm the only one with a Minelab around here anymore — too bad, but I still got some technique now and again, don't I baby!).
So, on and on we go, hoping we'll get a double digit day (I mean, 5 silvers in 50 minutes; how could you think otherwise?), but all that comes in over the next 2 hours is this sterling dogtag/pendant –
The other side is blank.  I wonder who RFC is.  The thing was damn deep, and looked like a silver Q in the hole.  Too bad it wasn't.
Anyway, this is now a 9 silver site, with just unpromising zones left to close it out.  No urgency.  The next time I find myself in this direction, I'll knock it out.  But oh, what a fun hunt for the first 50 minutes.
Here's the take all shinyed up.  Interesting that the spill contained 2 '64 rosies and a merc, now that I see the dates.  Total hunt time: 3 hours.