Now, that's a title that works, I'd say.
Anyway, back to the site from a couple of days ago (and, the only site I've worked for the last over a month), where I pulled a largie and a silver ring on that day, to clean up some loose ends, and, hopefully close the site, and I managed to pull two more silver coins.  Not bad.  And for all I write about hunting the "out of the box sections", these coins were more or less in the "in the box section".  Go figure.  Of course, I always leave these sections for last, cause they are always hunted out; so sometimes better to be lucky than good.  We'll take 'em tho, cause silver coins are hard to find.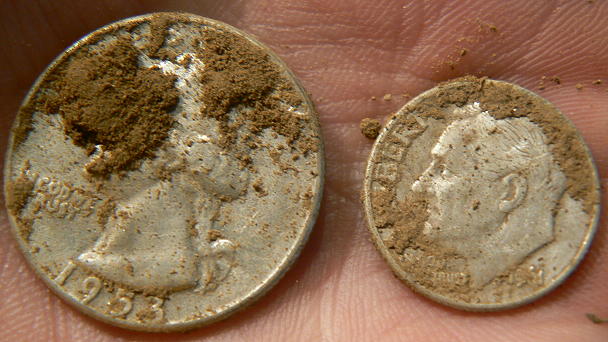 Its been an interesting site, but, outside of about an hour of terrain I didn't get to today, its closed.  50′s era park, giving up 11 silvers (4 of them quarters), and 2 large coppers.  The first one was an SLQ found in November, 2010, then I didn't get back there 'til the end of 2012/beginning of this year, cause it was so dead on that SLQ hunt, but over those few hunts at the beginning of this year, I managed to squeeze out 5 silvers, then tabled the site.
Went back again this summer cause errands and life put me in that area (doctor's appt, needed a low target site, and it turns out its also near my PT place), and I got 5 more.  Cool.  (I have no idea why I am writing all this crap; I guess its just this feeling that these silvers found me, cause I never expected any silvers at this place, cause its so dead — I guess the point is — keep at it).
Anyway, onto the sangria.  People have asked me for my sangria recipe, so I put it online.  Its good stuff (if you like making and drinking sangria).