Oh my, what a past 24 hours.  Lets try to drop something that doesn't require a morning edit.  Not that hard, here goes –
Back to the site from yesterday, and the hunt before, and pulled another silver Q not too far from yesterday's, as well as 4 wheaties and a clad dime.  6 coins in 2 hours before a PT appointment to fix my broken body.   We'll take it.  Gee, that wasn't so hard, was it?  Surprised that this turned out to be a 9 silver site; and when its closed, I hope I have the time and memory to blog why I think this site is interesting.  We'll see.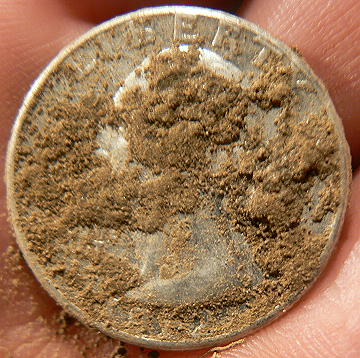 Yeah, I don't know the date of this one either, but who cares, it works for me.  Its silver.
And yeah, I'm doing the morning edit now.  No one needs to read it.  On an unrelated note, Lagwagon's Never Stops may have finally climbed my personal charts to be the best song ever recorded.  And, that's hard, breaking thru that box of Maiden at the top.  These changes are not made lightly, and, in fact, are rarely made at all.  Download the sound.