Got out today was the first hunt since 7/12.  Back to the park of the last entry, which was a 7 silver park, and gave up that large, old, spoon. In the out of the box section.  Interesting that, after the long layoff, the machine sounded a bit weird, and I did not find a single coin in the first hour of detecting, but it is a low density site, and I did find some nice deep high tone junk, which is always nice.    Shifted to a different paradigm in the out of the box section (sort of out of the box in the out of the box, if all those words work), and found 5 deep 60′s memorials.
While 5 cents is nothing to blog about, that is such a killer tell, and I was reward with the goodies, a deep silver Q.  Since the last entry was an everything but the girl hunt, we'll take it; the science indicated it should be there, and there it was.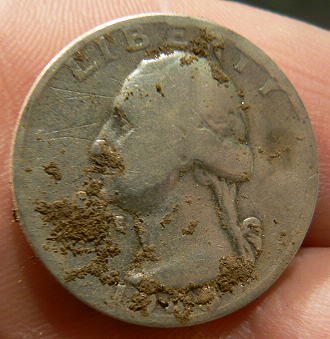 Oh, and I don't even know the date.  40s something is all I know.  Silver is all I know.  What else do you need to know?.