Haven't been out since 6/6 when I found 4 mercs (family vacation in Myrtle Beach, took the detector, but I've never been much of a fan of beach hunting, and besides, laser tag and miin golf are more fun).
Anyway, back to that same park again to try to finish it off, and pulled two more mercs and a rosie.  The first merc was in some sort of iffy area that looked like it had been excavated in the recent past; you never know whether or not to blow these areas off.  Good thing I gave it a go, as it was rather shallow and a slam dunk.  The second merc was on the very edge of the site, right next to a metal fence, and the rosie was deep and on its side.  All kinda lucky silvers, really, but we'll take 'em.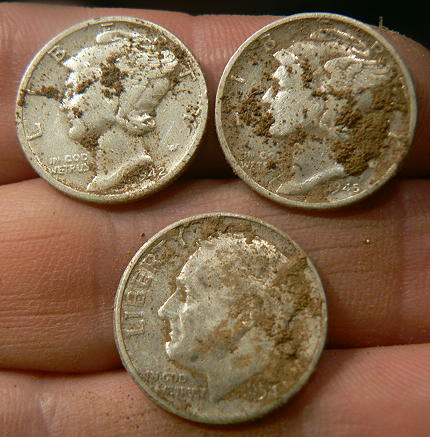 Looks like another day or two to finish this place off.  Not sure when that will be; maybe this week, maybe not.  Never saw this small park as an 8 silver park and counting, and never expected to get so many dimes, but, fortunately, the mineralization cleared up a bit when moving from the older edges of the site to the middle, which I believe was filled and graded in the '40s.
And, in completely unrelated happenings, saw Barleyjuice on the way home from MB at this cool theater in Wilmington (DE) called The Queen.  If you've never seen a concert there, check it out.  Excellent venue with excellent sound.  My wife and I agree that is the best the Juice have ever sounded.  This week will be a house concert with Brother, and then Albannach and Brother again (as well as countless other bands), at the Celtic Fling in Lebanon County.  My trifecta of obscure Celtic bands, all in the same week.  Awesome baby!  Too bad we can't get Dropkick Murphys and make it a grand slam, tho they are no longer obscure, of course.  (And now Celtic Fling is reportedly selling beer by the growler in addition to the glass as in the past  Are you kidding me?  Should be a good time

).