Its been a few days, mainly cause I've been way busy with other stuff, and ain't been finding much — I've only gotten out about half as much as usual.
Last Wed went back to the colonial era site that gave up that gorgeous 2 reale and 1875 IH, and as I feared was possible, did not dig a single coin all day.  Sheesh.
Next day went back to the park that's given up 40 silvers (20 or so this year), just trying to finish off the loose ends, and again didn't find anything but a few wheaties.  I hate that stage of hunting a site, but that is often when you find the best stuff — have found a couple of walkers and a barber Q in those loose ends sections of other sites, but it just doesn't seem likely here.  Too bad there is still more unpromising land to do to close that site off.
Friday had an appointment and went to a new site near the appointment — it seemed promising — an old park surrounded by houses at least old enough to be on the '37 aerials, but the site was a dud — heavy mineralization and shallow bedrock, in some cases only 3 inches.  The frustrating thing was the site should have been killer, plenty of trash, and tons of good tells: 60s and 70s clad and old bottlecaps, none really deep, but all I could muster was one wheatie.  Are you kidding me?  I usually eat these sorts of sites up.  I wasn't gonna find anything deep due to the extreme mineralization, but the bedrock kept everything shallow.  Where was the silver?  How was the silver gotten, but not the 60s and 70s clad?  Who knows?  My guess is its a density issue — not many houses around, and no reason to really visit this park from elsewhere.  There may be a couple of silvers here, but I don't think I will be the one to find them.  Certainly the most frustrating hunt of the 3 days, due to expectations, and hope of developing a new site, which I am in sore need of.
Saturday, ran 21 miles, so I was shot for the weekend.
Today, legs still shot from the run, decided to go back to the colonial site from last weekend/early last week, cause there are not many targets, which would be easy on my legs.  Another hour and a half goes by at this site, working the area near where I found the 2 reale, and still not another coin, and was about to give up and go elsewhere (not that I really have an elsewhere to go right now), when I got a 12-37, which turned out to be a smoothie copper on its side.  Only my third copper of the year.  Too bad its a smoothie, but it gives you the adrenaline and hope that it is still possible to find old coins here.
Finished up that area, and decided to work an unfinished area between where I found a wheatie and and that old silver spoon, and the IH, and had some better luck here.  Hit a wheatie spill with a nail — was surprised to pull a 1910 and 2 1916s wheaties from the same hole.  3 old coins in one shot.  Woohoo.  Shortly thereafter pulled a decent looking 1912 V nickel, as these things go (only the 4th of my career, along with 1100+ silvers — I guess that's a whacked ratio), then a really nice, heavily greened 1910 wheatie.  It would definitely be XF, but the patina has a weird shiny marbled look (that's the way it came out of the ground for some reason).
I figured I'd never see another silver coin again (it had been a while, at least time wise), since my last (but when it is a coin as nice as that 2 reale, you really don't care), and had already written this entry in my mind, titled "No Silver", when I got a beautiful 12-44 that bounced to 07-45 and the like.  I knew it was a silver dime, and was hoping barber or seated, given the other old coins here, but it was a 1920 merc.  I was happy to see the silver at the bottom of the hole, but figure I have a real shot at a seated or older American coin at this place, but, outside this small zone, good targets are incredibly sparse, and I figured I blew one of my last chances at a seated on this one.
But then I got one more beautiful signal, a 12-47 bouncing to an 01-42/01-43, a little scratchy, but these always end well.  My heart was thumping.  Opened the plug and hit a small nail.  Sweet, that would explain the scratchiness of the signal, and sure enough, it came in even cleaner on the rescan.  Now I'm thinkin' seated Q or half, finally hit it, and its a deep piece of solid copper.  D'oh!  Are you kidding me?  Oh well.
So, here's today's take 1910 x2, 1916×2, 1912V, 1920 merc, and smoothie copper –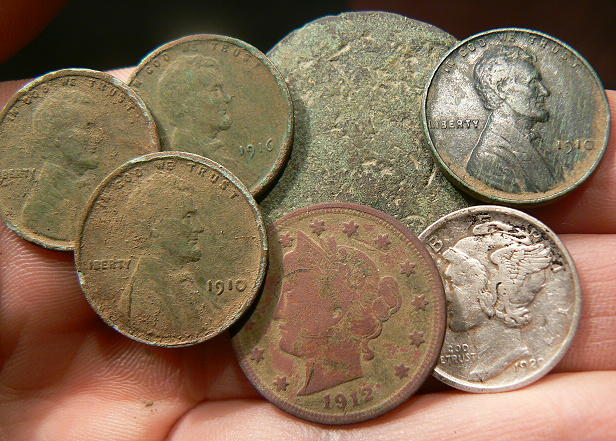 By far my best day in terms of quantity of coins at this place (previously, the best was just two old coins).  Its a frustrating site, tons and tons of iron that sometimes sound good untll you work the signal, yet so few diggable targets.  Hard to describe really — certainly not like park hunting, but the possibility of a big fish, no matter how remote, keeps you going.
Well, I guess I'll give it another day here.  The sad thing is — the section that has given up a decent quantity of old coins has very little left of it.  All the old coins except the 2 reale and the copper have been found in one this area, and all other areas seem dead, except one stray newer wheatie elsewhere in a zone that didn't work out.  I really don't expect to find another coin here, but I have to keep at it.  Wouldn't you?
BTW, is this effing winter ever gonna end?  It was 38 when I woke up.  I had to put 4 layers on, and there was a wicked chill breeze.  When the sun was in, it felt like all those February hunts, just without the copious quantities of silver.