Back to the colonial era site of the last 2 days, and in a little less than 4 hours of hunting, I dug exactly 2 coins.  Talk about low density (it is a huge site), being hunted out, or both.
One of them, tho, was a rather nice semi-key date IH.  Those who read me know I'm pretty disdainful of IHs, cause they usually come out of the ground around here looking like crap, but check this one out –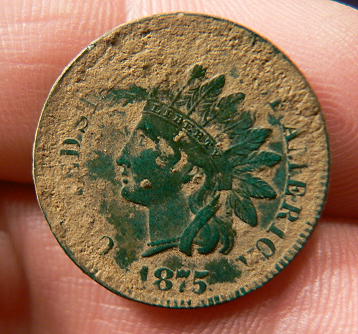 Full bold Liberty, full detail in the feathers, and even the diamonds on the ribbons.  Would go EF40 or AU50 for sure, where it not for the dirt.  I'm afraid to clean it.  Rare that I would get one that is not corroded (my first), a semi key date (my first), and EF detail (my first or second).  When you can't pull a silver trifecta, (or silver unifecta for that matter), you take what you can get.  Nice coin, really.  (I'd love to get a copper at this site, seeing how benign the dirt seems to be here).
The other coin was a 1945 wheatie.  No great shakes, but it opens up a new paradigm at the site.  Even so, I wasn't planning to go back to the site for a spell, given that I had only dug 4 known older coins in about 8 hours of hunting, and only one silver, but that IH is nice, and older than I expected, so maybe I can squeeze a seated out of here after all.  OTOH, its very possible I won't find another coin here.  We'll see.
BTW, Pink Panther points out that yesterday's spoon is from 1905.  I didn't think it was that old.  Another reason to get reenergized about the site.  Thanks Pink (I'm not sure why the comments don't work, prolly cause you included a link — preventing links in comments eliminates spam).  Here's the link to the spoon on Ebay (this link may be bad in a couple of weeks).