The day started out well (cold, of course, as the endless winter rolls on), but well, especially when my wife says lets go metal detecting.  Are you kidding me? I don't get out much on weekends, as we usually do other stuff, so this was a nice bonus.  Any company when metal detecting is good, good company is even better.
Today's plan was a new site: an abandoned mansion.  I'd almost say "plantation", but, in all honesty, I don't exactly know what that word means (or connotes), and I don't think we have them around here, but that's the feel of the place, at least to me.  Its sort of out of the box, and huge, so it has a chance of not being totally hunted out.  I generally have bad luck at 200+ year old properties, cause every detectorist and their uncle bangs the crap out of them, and there isn't much density at these sites to start with, but it is always worth a try.  If you want the big fish, you have to mix in these low probability sites in once in a while (as if I'm an expert on big fish, having exactly one on my trophy board in my career, found in a modern park).  And besides, when my wife is with me, I always have good luck.
Always at a new site, we meander before setting up grids, and right into it, less than a half hour in, was a nice deep clean small pinpoint 10-46 on the E-Trac.  You get that at a colonial era site, you could prolly sell it on ebay for nice $$$ before digging.
Dug about 6 inches, and couldn't get it on the PP.  Told my wife when you don't get them, right on like that, they are not silver dimes but are usually deep junk or deep iron (yeah, redundant again, but a different kind of redundant).  But kept at it, digging another inch or two (it was such a gorgeous signal), and eventually got a PP hit, and eventually popped out a silver coin.  Woohoo.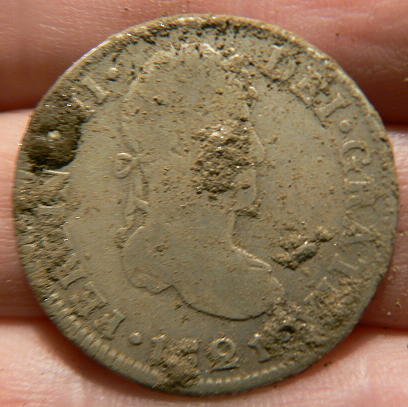 And below, here we all all cleaned up.  Isn't this a gorgeous coin?  1821 2 reale Spanish silver. But not just a run of the mill Spanish silver — a gorgeous one. Apparently, this is the last year they made em.  Yeah, I'd love an 1821 US Q, but you take what you can get in this life.  I've dug 8 Spanish silvers in my career (3 or them 2 reales), but this is, by far, the most gorgeous of them.  We'll take it; who wouldn't?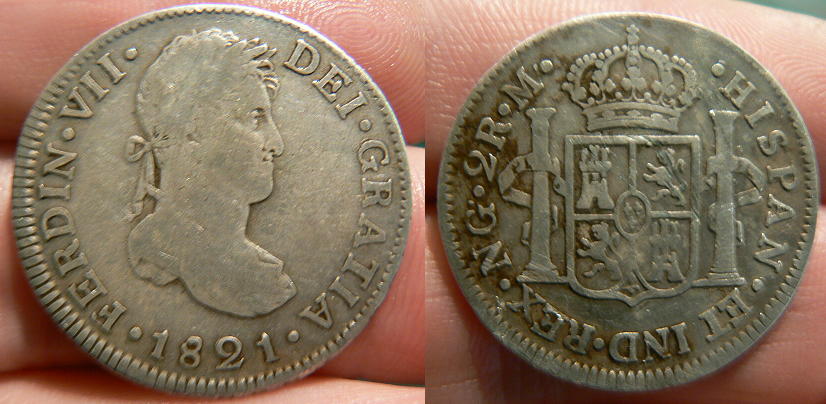 But, there's more.  There always is.
So, of course you start a tight grid on the area that this coin was found (who wouldn't), and I did, and I didn't find anything.  Not even any high tone trash.  Tons and tons of iron falses (which is typical of these sorts of sites), but each one that sounds good initially always sounds like iron on final examination.
The hours roll on, and after 2 hours, this is the only coin I have dug at the site.  Are you kidding me?  And, what's worse, only one other deep high tone trash, and no shallow high tone trash.  Nothing but iron and a competition banged out site.  How did they miss the 2 reale?  Who knows?
So, the grid out failed, not even a wheatie, so I decide to meander to other parts of the site, and eventually hit a 12-41, about 4 inches deep.  I say, please, please, be a wheatie (and this, coming from someone who usually ignores wheates), and sure enough, it was, a 1917.  I did a happy dance on this wheatie.  Gives me hope for more from the site.  2 coins in 2.5 hours.  Certainly not like park hunting, is it?
So, of course you are gonna try to grid out from the wheatie; and I did, and got a beautiful, deep, quarter signal not that far away.  Another signal you could sell on ebay.  Visions of seated or bust quarters swirling in my head, and what pops out, an effing Chinese coin or some crap.  And its not even silver.  Are you kidding me?  I'm no xenophobe, and a silver Chinese coin would have made me happy, but this is just too much.  What is a Chinese coin doing at a colonial era site?   Did they use Chinese slaves or servants in those days?  Who knows?
But, there is even more.  The Chinese coin was at least a nice tell (deep, high tone), on top of the wheatie, so you figure the competition has tread lighter on this section, so you keep at it, gridding even more carefully and slowly (and its still iron infested, or course), and I get another deep high tone, and it is another effing Chinese coin.  Are you kidding me?
This one came out looking like silver, but its not, despite its high tone.  Its too light, and doesn't have "the ring" when you spin it on the table.  Not sure what high tone metal it is. In any case, here are the Chinese coins.  3.5 hours of hunting, one American coin, and 3 other coins.  We'll certainly take that 2 reale, tho.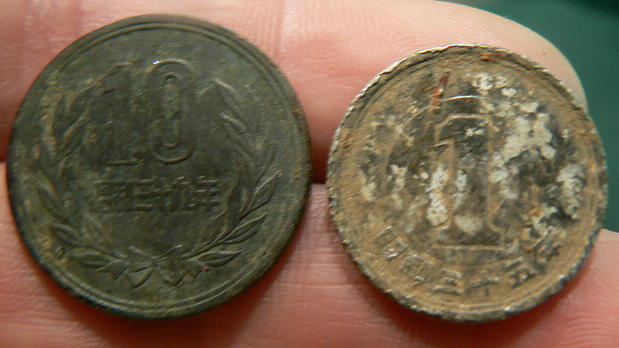 The sucky thing about these Chinese coins (aside from the fact that they should have been seateds or 2 cent pieces or something), is that you can't even google to see how old they are.  I'm guessing 1880s or so, cause that is my memory from history class of the huge Chinese labor influx (tho I thought that was more of a west cost thing), not a Chester County thing, but WDIK?
In the unlikely event that I can date them, I will update this page.  But, I'm not counting on it.  Not sure how to score the site — any site that gives up such a gorgeous old coin deserves more hours; OTOH, not sure I have the patience to deal with hour upon hour of few  high tones at all.  We'll see.
Nailed this one baby!  And even if not, that is one gorgeous old big silver coin.  You don't have to nail it when you pull coins like that, do you?