I didn't find any silver today, but I did pull a barely legal rosie yesterday.  Woohoo.  Just cleaning up the loose ends of the current site, which at 40 silvers surrendered, is now officially a honeyhole, tho it doesn't really feel like one, and too bad it ain't gonna give up any more, I fear.  Still, not bad, since I have up on it 2 years ago at 20 silvers, and the locals around here (I guess that's redundant, isn't it?) all think it is hunted out.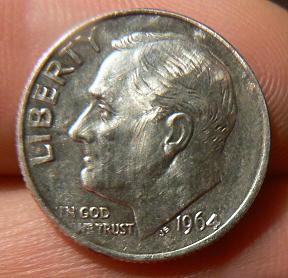 Its a grueling site — trash, mineralization, and so forth, and it burns you out pretty good.  Been trying to close it off for a month, but it keeps leading you on with those onesies and twosies, not to mention a stray barber quarter, which keeps you saying "there must be more",  when really there isn't much more.
Kept trying to poke at new zones today, but it ain't giving it up.  May close it off next week, or may try to find a new site, neither prospect terribly pleasant.  Its all about that middle experience, when you've proven the site, there's alot to go, and you mine those multispots day after day, and put off these dregs cleanup days as long as possible.  Hope to experience that again, but the prospects of that aren't looking that good right now.