Another rough series of hunts, but it ended on a high note.
Wed 4/3 was back to the "old honeyhole" site I've mentioned a couple of times recently to formally close it down.  65 silvers as of 4/27/2011, and 2 more recently for 67 total, but none on Wed.  Farewell Farewell.  Was an awesome site (my 4th best), but all things must pass.  Was gonna put up a GE image of the site and 30s aerials, to show what a sweet site it was, but I want bang this out and watch basketball.  As I've written before about this site, its been pounded by the competition since I was last there — I leave the wheaties and clad, and they were gone this time around, tho I did dig a few deep wheaties and a deep clad quarter on its side.
Thu 4/4 was to try to open up a new site, yet another old sports field.  Disappointment when I arrived as I saw half the site had recently been regraded and was freshly planted with grass.  Of the half that was left, half of that was under brutal power lines, and I could not get anywhere do to the EMI.  That left the last 25%, which at least was likely the oldest and most used, but it has been hit hard — no shallow clad.  I did manage 8 deep wheaties, but nothing shiny, and while there are handful of silver dimes here, I had neither the luck nor the patience to find them after 3 hours of misery.  I doubt I'll be back, but we'll see.  I've never been to the town in question, and there are other interesting sites there.
Onto the backup site, which is old houses, no longer standing, on public property.  These sites can be iffy, cause once the competition figures it out, and it isn't hard, they can be cleaned out, the hope is that technical skill with the machine will find what they missed.  Other than a few deep high tone trash and deep clad, I didn't find anything.  Will give the site one more try some other time.
Fri 4/5 was hunting some small 100 year old parks in Philly with a friend from the Facebook group.  This wasn't gonna end well — really old small parks in high density areas rarely end well (I only know of one exception in my career), and it didn't, tho I was surprised to find 3 wheaties at the extreme edge of one of them.  In all honesty, we didn't spend enough time at the latter parks to get a feel, but they didn't look for feel like silver parks to me.
So, the massive slump continued, and, to this point, I had dug 21 wheaties in a row without digging a silver coin.  That, I believe, is a record for me.  By my ratios, that should have translated into at least 8 silvers, and even by the worse case that others report (7:1, ouch!), I should have gotten at least 3.  But I got bupkis, and have no site, and low morale.
Sat 4/6 I was able to get out to a new site, as the kid was mired in homework, and the wife mired in a mall crawl (ouch!).  This site is an old school on older farmland.  These can be iffy, cause they are easy targets, but you can sometimes get a copper or barber half or such from the old farmland, as well as the mercs and rosies.  And besides, I didn't have anywhere else to go.
And it started out badly,  No shallow clad.  That's a bad sign.  No deep clad either.  Even a worse sign.  But, the site is large, and I figured density would be an issue, and I kept at it, and I did get a deep colonial era buckle, which was good, and then I got a deep '66 clad dime,  which was even better.  I set up a grid around the '66 dime, and was in business.
Got a deep 11-46 which is almost always a clad Q around here, but I knew it was silver before I dug, and was overjoyed to see a rosie pop out.  My first silver coin in forever.  Not only that, pinpointer went off when I put it back in the hole, as I always do (note to newbies — always do this), and my second silver coin in forever was a merc.  We'll take it.
They are singing the national anthem for that basketball, so I better wrap this up.  Next decent signal was a deep silvery 01-45, and that always ends well (often as a big silver), and it did, a deep rosie on its side (coins on their side always sound bigger cause I think the E-Trac picks up the signal from both sides and adds it).
Then I got something cool, it was like a 12-37 with a 09-44 mixed in that sounded like silver; I could hear it, but could not isolate it.  I figured the 12-37 was a zincoln in the way of the deep silver, so I went to pull the zincoln first so I could isolate the silver, and instead got a spill, a rosie, 3 memorials, and a wheatie, my first wheatie of the day.  Hot damn!  Rescanned, and heard the zincoln as a 12-32.  Sweet!  Got all the coins without the trash.  But, I dug it out anyway, cause I was there, and maybe it was a gold ring, but it was one of those thick, old-style pull tabs.
Next swing, right past the 5 coin spill + pulltab produced a slam dunk rosie.  5 silver coins in 3 hours.  Whohoo.  But, only 3 events, as two were spills.  But we'll take it, who wouldn't?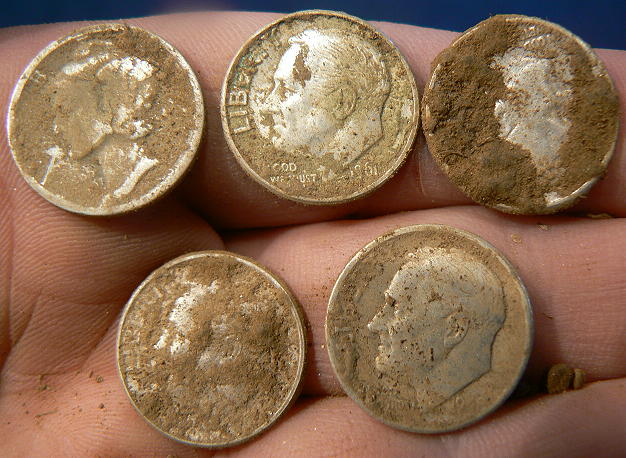 But, there's more.  Unfortunately, its much less exciting.  It was only lunchtime, and I'm thinking a double is in the cards today, but I have to go out to get lunch, and as I'm leaving, all these cars are coming in with all these little kids in sports outfits heading for the area I was working.  My day was done, as I didn't feel like exploring elsewhere on the site, especially when I was doing so well there, and so poorly elsewhere on the site.
So, after lunch, I head for my backup site, which is just a huge field with no reason to believe there will be anything there, but occasionally you can get reales or coppers in these fields (I've gotten 3 reales this way, and well over 20 coppers and a barber half this way as well, so you never know), but I didn't get much.  Just a couple of wheaties, and a real heartbreaker, a deep, sweet silver sound that turned out to be a 1972 clad Q on its side at 7 inches.  Are you kidding me?  In a non-descript field.  Giving me a heart attack.  Once again foiled on the big fish.
So, what I'm not understanding is the All or Nothing way my hunting seems to work.  Forgetting things like non-descript fields, which no one expects to work, I either seem to get monster days or monster sites, or nothing at the next site.  Just don't understand it.  For someone obsessed with stats and numbers, I'd just love to ride the stats wave, and figure any old site I plop into, I'll run at 1 per 1-2 hours.  But it just ain't working out that way.  I wonder why?  Is it mineralization, and the E-Trac being more suited to some sites than others?  Is it the incompetence of the competition, who doesn't keep meticulous records of all the sites, and finish them off in an efficient manner?  Is it that we are still working off that "golden age", more silver than time and competition to get it all yet, but that day is coming fast and soon?  Or, do I just overthink everything?  Who knows?
What I do know is that I am running out of sites myself, as previously blogged.   I think there is no chance I will be doing this next year at this time, due to lack of sites, unless I reinvent myself and become a full time door knocker?  While I'm not afraid to do that, I'm not sure I'll enjoy the experience.  But, we'll see.  I am addicted to the experience of seeing the shiny in the hole.  But I see a future of always struggling to find a new site.  Today's site, of course, can only be hunted on weekends and in the summer, so I'll be trying a new site on Monday.  Hopefully, it will be All, instead of Nothing.  We'll see.  At least it is in my most productive municipality, and the backup site is a 20 silver site I have yet to finish off.
Ok, I got to watch that basketball (way too much blather tonite, but I'm excited after dropping a 5 spot while in a horrific slump).  Few things trump detecting, but March Madness is one of them.  And, not only won't we get a morning edit on this one, we won't even get a clean up edit right now.  So, I hope its readable.
Lets see those slump breaking dimes again all shinied up  –