Haven't been out since Wed, and was itching to get out, and despite another cold, dreary day here in late March, got in a rare weekend day hunt.
Went to an old honeyhole — the last time I was here there was 4/24/11, and it turns out its my 4th best site, having given up 65 silvers.  I've been thinking about it alot lately, given that my current site, which I will probably close this week, weather permitting (and that is supposed to be even worse next week), is at 64.
I wondered, since I've improved so much in two years, whether I could coax a few more out of this site.  This site had one hot zone that gave up 19 silvers in a single day (and it would have been 20 or 21 if my battery didn't die), and I was wondering if the big unit would help.  And besides, its pretty close to where I live.
But the site was pretty dead.  Alot has happened in 2 years, including, I reckon, the competition buying Minelab machines.  I think I went over it pretty well that spring I was there, but not this well.  Pulled a total of 6 coins in 3 hours.  Are you kidding me?  Just one clad coin, 4 deep greenie meanie wheaties, and a 1946 rosie.  Woohoo.  Any hunt with silver is good.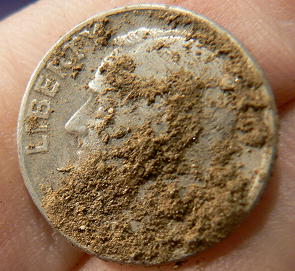 I passed on three other wheaties, and only one clad dime, so this site has been slammed in the meantime.  It still needs a hunt or two to formally close it off, as there is still silver there, but it is very sparse.
Well, off to see Bad Religion now at the Factory.  One of my favorite bands.  Hard to believe they are still kicking after over 30 years.  Wonder how I'll hold up in the pit?