Continuing the gridding of the site of recent entries further into the field, and I finally got a field tell, an old buckle.  Also got a couple of rosies and another sterling ring.  Things are getting thinner and thinner, including a 45 minute stretch without a coin of any type (except a couple of zincolns, and they don't count), and not much junk either, but experience says press on, and eventually I got the rosies.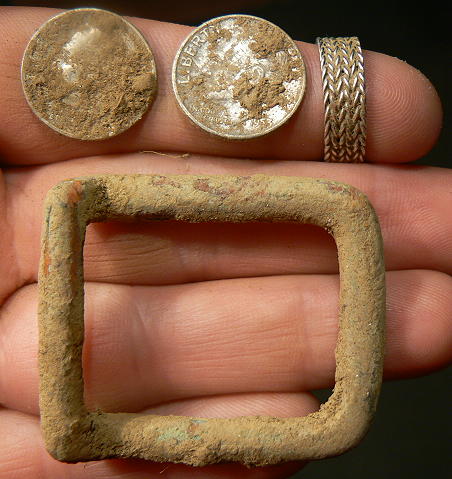 The buckle was deep.  I will never hear an old coin at the depth this buckle was, unless it is a half or silver dollar.  If I get a big fish here, that's what it will be.  We can dream, and that's what I did, thinking of the flowing hair halfs flying into my pouch.
The weather was beautiful today, 48 degrees, no clouds, no wind.  But a nor'easter is on the way, anywhere from 3-8 inches coming.  Glad I got out today, and toughed it out yesterday; nice to go on hiatus knocking down the silver.
Sadly, there isn't more. Gridding out a proven site is boring (at least to the reader), but boring is actually good in most endeavors.  Maybe I'll post that big fish after the snow melts, but I'm not too optimistic on that score.