Alright, here goes.  Lets try not to be as obnoxious as the entry from the other day, but pulling silver is hard, and damn exciting, so sometimes its tough not to be.  The adrenaline takes time to drain sometimes, and it rarely drains by writing time (but of course its all gone by the time of the morning edit).
57 degrees today, and all the snow melted, so back to the prospective honeyhole of recent entries, working the grid towards the road (as opposed to the direction that produced that silver frame thingy and the putative area of the old timer's buried halfs), and the second noise cancel gives me a channel 3, which is the lowest of the low on my opinion of E-Trac channels, and what I do when I get a crap channel is run in it for about 3 minutes and NC again hoping to get a good one (there is a method to this madness, which I may write up better sometime), but pretty much after I got that NC 3  I got a beautiful silver signal that blew my ears off.  A walker at 3 inches.  Are you kidding me?  And, my first silver ever found on E-Trac channel 3 (yeah, I track this, shouldn't you?), but of course, a Radio Shack detector could have found this one.  I rarely get slam dunk half dollars, this may be a first (usually they are either deep, affected, or on edge or on the edge of or in out of the box locations of the site).
So that's a good start, but it gets better.  Merc, then merc, both tough.  This "towards the road section" is both highly mineralized, and trashy, which is a double whammy.  Then we get a beautiful 10-48 which almost always ends well, and this one did — not one, but 2 silver quarters in the hole.  At first, it looked like one was clad, and one was silver, but fortunately they both came in shiny.  Rock on, baby! and it wasn't even lunch time.
But it gets even better, if you can believe it.  Silver #6 was a slam dunk rosie, and #7 was a silver Q awkwardly positioned between two pieces of iron.  I ran over, ran over, ran over that signal trying to separate it, and eventually just dug in, unable to pinpoint, hoping for the best, not one of my better plugs (and my plugs are usually masterpieces), but I got the damn thing.  Sometimes better to be lucky that good.  While I never saw a good number, I always heard a good sound, and E-Trac newbies have to pay attention to this point — its about "that sound", not so much about the numbers.  That's why I rarely post numbers in my writeups (aside the fact that I usually don't remember them).
So we're thinking we got a double today, and not soon after, silver #8 comes in, an iffy merc that all I honestly remember about was that after I dug the plug, it somehow ended up in the grass beside the plug.  Quite a problem to find, but we'll take it.
At this point, I had 8 silvers by 12:30.  A 4 per hour run rate, and that's not accounting for my lunch.  Are you kidding me?  I think that's unprecedented for me.
But things slowed down, and silver #9, another Q, came in a half hour later.  I still had an hour an a half before I had to get back, so there was little doubt about getting a double.
But it was not to be.  The next 90 minutes produced plenty of deep wheaties and clad, and many moments of "here it is, baby!", but here it wasn't.  The worst was when I got a beautiful deep 06-48, and this is at a site that has been coughing up silver, so you know its gonna be a silver, and it was two high tone buttons.  Are you kidding me?  D'oh!
So, that's that.  A 9 silver day, but a $1.90 day was well.  Sort of like a 19 silver day, if you think about it.  My 5th best day in terms of face value, all time.  We'll take it.  Who wouldn't?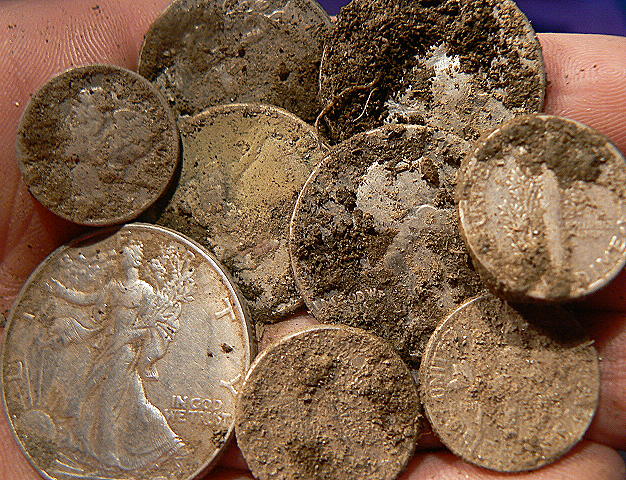 But, there's more.  There always is.  This direction of grid towards the road seemed dead after the entry of the other day.  I was ready to call it a 25 silver site.  Then, I hit another hot zone, then more dead.  What's happening, I think, is that in the hot zones, the bedrock is shallow, and in the dead zones, the bedrock is deep.  That's been my digging experience.  So, it might not be a case of "what was going on in these hot zones", but more a case of the "silver has sunk beyond detecting range" in the dead zones.  Who knows?  This still doesn't explain the linear path of the silvers along my grid, which after a few hunts here, I've finally got going the right direction.
Weird and interesting site, but now seemingly dead in the direction of the grid towards the road.  Still have the direction of the silver thingy, and the old-timers halfs, and overall have covered only about 3% of the site (tho I feel by far the hottest section).  At 33, close to hitting my original call of 35, and blowing out my revised call of 25.  Could still end up be a honeyhole, tho, we'll see, and lets hope so.
And lets see that shiny all cleaned up –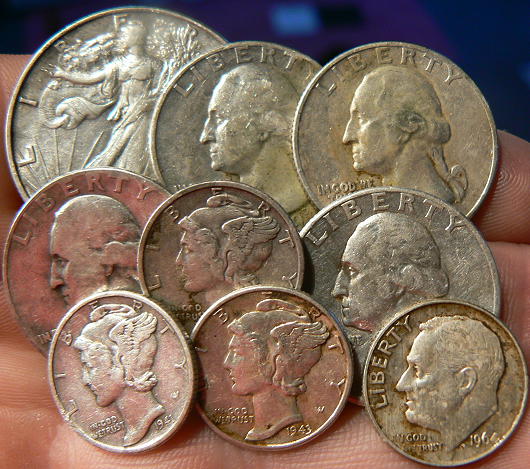 Nailed this one baby (and no, I didn't nail that trainwreck from the other day, but at least kept my word not to edit it).  I like this one tho; I don't think I'll be editing it.
And besides, who has the time?  Tomorrow morning (and all day, and all weekend), is a Celtic festival I'll be at, which will not only feature Barleyjuice (previously blogged about), but Brother and Albannach as well.   Tribal Celtic fusion.  Are you kidding me?   Too bad I don't have the time to blog about the latter two, but google and download the sound.  You will not be disappointed.