Well, the 4 hunt slump was broken today with a '41 merc.  Certainly not stunning silver, but we'll take it.  Despite my almost unbelievable success over the past few years, it remains true that silver coins are still really hard to find, as the recent slump reminds me.  We'll take it.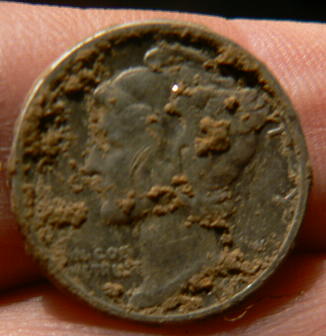 The site is a baseball field built in the 1950s in a small development built at the same time.  The last time I was at this site was Nov of 2010 when I pulled a dateless SLQ, and my notes said the site was dead.  And it was; the SLQ was about the only target I found, more of a circumstantial target than a systemic one. Not a site I would normally seek out aggressively, but I had a doctor's appt in that municipality today, and the municipality in question is my second best overall (yeah, I track silver by municipality; IMHO that is by far the most important stat I track).
Whatever.  It may be a 4-5 silver site, and I got 2 of 'em now.  Doesn't solve the "need a new site problem".  Not sure when I'll be back to this site or solve the "new site problem", we'll see.