Yesterday's hunt was quite frustrating.  Back to the site from early in the week where I got 1 silver and 7 wheaties for a longer hunt to get a better feel for the place, and I got 1 silver and 12 wheaties.  Are you kidding me?  Well off the magic 2.5:1 ratio.
It was bizarre.  No clad, no trash, just wheaties.  Who cherrypicks to that degree?  Who digs the clad and trash, and not the wheaties?  It was just unbelievable.  This is a permission site, and I was told it has not been hunted since the early 90s/80s.  Since it is still in use and there was no clad, it is obviously being snuck into, and by someone who picks off everything but the wheaties.  Why?  I tried to think of a technical explanation; sometimes when I get wheaties and silvers out of ratio like this, it means I am swinging too fast to see the silvers, and a conscious effort to slow down corrects the problem, but that wasn't it.  To make it worse, I gort 5 to 10 wheatie signals I didn't even bother to dig.
So, over two days, 19 wheaties and 2 silvers over 7 hours.  I generally write off a site if the silver rate is less than 1 per 2 hours, and this ratio has me flummoxed.  I decided to give the site a break  and maybe go back someday — it has such potential, but the evidence suggests that it is a dud.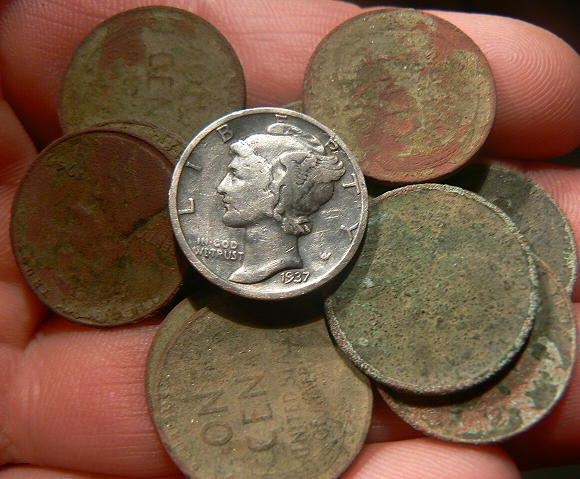 Today went a bit better; I went back to the site where I found my 300th silver for a little cleanup of sections in one zone I didn't get to last time, and the first section had a deep, iffy merc, and the second section had a war nickel that came in at an unbelievable CO of 30 on the E-Trac.  Usually they are CO 15 or 16.  I've seen one before at 12, and one at 22, but never this high.  Of course, at an old site, you dig any deep, repeatable signal, regardless of the numbers, but 30 is really high for a war nik (I airtested it to be sure).  As you can see in the pic, it is quite shiny; perhaps it has a lot more silver than most.  I also dug sterling ring in this zone.
The site has two other zones, one being a large field, and I decided to hit that field in the remaining time I had before I had to get back to work.  Hit a pair of silver dimes, so that was sweet.  Maybe that opens the field up; I'll try some more in there if I have the time later this week.  Now 11 silvers from this site.