After a rough couple of hunts, yesterday's hunt was also rough.  Back to to last Friday's six silver site for another round of abuse, and it delivered that in spades, 8 wheaties, and no silvers.  I did manage to pull a 6+ gram sterling St. George slaying the dragon pendant, which took some of the sting off, but silver bling just isn't the same as silver coins.
Over the last three hunts, its been 18 wheaties and 1 silver.  Are you kidding me?  My lifetime ratio is 2.4 to 1, and that has been consistent, more or less, for a very long time.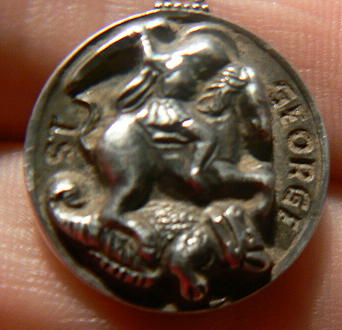 I didn't have too much hope for today, as I was going back to a relatively new site from the beginning of the month; the first hunt produced 3 silvers, an IH, and a 1740 KG II copper, but the second hunt, which was moving closer to that "middle" we talked about in the last entry, only generated an IH and a buff, neither target all that constructive, as many silver guys (myself included sometimes, ignore these lower tones).
But today went well, as the first target, within the first 5 minutes, was a deep rosie on its side that the E-Trac had no problem with, putting me at #299 for the year.  The next target, about 20 minutes later, rang like a deep silver quarter, but turned out to be another rosie, putting me at 300 for the year.  So, that's that.  Not all that close to 516, but we'll take it.
Ironically, after the second silver sounding like a Q and being a dime, the next sounded like a silver dime and turned out to be an SLQ.  God, those a so fun to dig.  Just love seeing them come out of the ground more than pretty much anything else.  Even dateless, even abused, still fun.
Rounded out the day with an abused merc, a thin 35S.  This was in a section that gave up a ton of targets (mostly clad), in a site that was otherwise pretty sparse.  The reason for this, again, is the E-Trac; something was funky about the dirt here, you could not pinpoint, and the propointer went bonkers on pretty much every rock in this section.  Extreme mineralization, and the merc was only at three inches, and an iffy signal at that.  Just goes to show that mineralization matters, and having a machine (and the skill) that can deal with it is important, as it is clear the competition missed plenty of targets in this zone.  I did as well; who knows what lies at 5-6 inches, as I couldn't see beyond 4.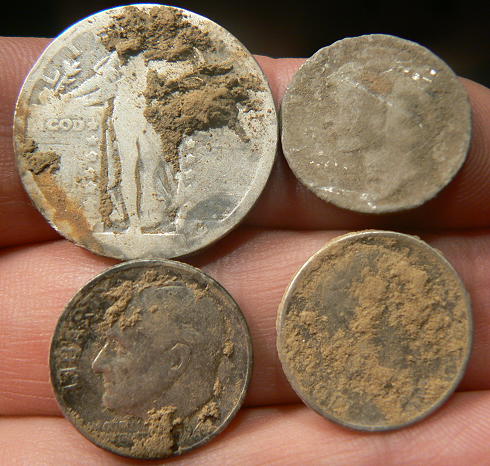 I'd write more about the silliness of milestones, and why we think they are important, when in fact they are not, but I'm tired, and I will leave that to another day.  302 silvers for a year seems good (tho not as good as last year), and I'm content with it, and glad I don't have to think about milestones for a while.
Tomorrow is farewell farewell day at last Friday's 6 silver site, where we hit a local pub, drink some local beer, do a final detect of the site, then go home and listen to Sandy Denny sing Farewell Farewell.  What could be better?